Brad Paisley found an interesting hobby to spend time on during the height of the coronavirus pandemic. The country music superstar started a donkey rescue service.
Alongside wife Kimberly Williams-Paisley, the singer seemingly stumbled upon the rescue out of a lack of anything else to do.
He shed light on his new endeavor during a recent appearance on Ellen. However, those who follow the singer and his wife on social media, were already hip to his new past time.
The pair often share photos and videos of the donkey's they've rescued. Often times, they'll share a bit of a story about how they came across a new rescue. Kimberly especially shared several snapshots over the last few weeks with the donkeys who bear names such as Oliver, and, according to Brad, "Ben Ass-fleck."
However, on Ellen, Paisley talked a bit more about how the whole endeavor got its start. He also said the coronavirus pandemic allows him to be home more and help with the rescue efforts.
"It's been an amazing thing to be home on the farm like this right now with these animals. It's different. I know everybody's finding new ways to do things around the house that they never thought they would."
His new past time, he said, will go on long after things go back to normal and he can hit the road like he did pre-pandemic.
Brad Paisley Escapes COVID Exile
Donkey rescue might be taking most of Brad and Kimberly's time at the moment, but he's still a musician and country music star first. During his appearance on Tuesday's talk show, he divulged that he might have had one of the last live music performances before everything shut down across the globe.
His 2020 World Tour was able to fire off one last show in Canada after gig promoters had shuttered all other performances.
"We started in [the] middle of March in Canada, and we were up in Saskatchewan the day after they shut down all of America," Paisley explained. "I feel like we got one past the goalie. … Live Nation pulled all the North American tours off the road — except ours. 'Cause we were, like, four hours north of the border."
Even after both countries' shut down, he was able to get back home thanks to being so close.
He said getting that one last performance in was quite special. The singer added he really soaked in the atmosphere, knowing it would be a while before he saw it again.
Paisley's Pandemic Pastimes
The donkey rescue is hardly the first time the country superstar talked about how he's coping with COVID-19 shutdowns. Earlier this summer he said he understood this kind of thing just screams for drinking.  Having a house surrounded by donkeys likely doesn't reduce the desire for a beer, or even something harder.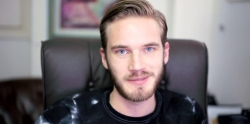 Latest posts by Teddy Lincoln
(see all)