Garth Brooks had to delay a launch party for one of his newest singles because of a hand injury. Now he's finally spelling out exactly what happened.
It turns out, he's considering himself rather lucky after an accident on his farm. The accident hasn't been one that's been easy to recover from. In a recent interview, he told Radio.com's Katie Neal the hand is still sore. He expects it to be sore for a while yet.
He told Neal he thinks he's going to lose at least one fingernail. However, he counts himself lucky that's going to be the biggest loss. His recovery is coming along to the point where he was recently able to play the guitar again. That was the first time since the accident he was able to play.
The injury forced him to push back a live stream launch party of his newest album. The album is a collaboration with wife Trisha Yearwood.
When he postponed the launch event, his publicity team shared he had a hand injury. Nobody gave any details beyond that.
Chop Saw Collapse
Speaking on the Bobby Bones radio show, Brooks detailed exactly what happened. The country music legend said he was putting away a chop saw when it "collapsed" on him. He said he got lucky in that when it did collapse, he was on the "safe end" of the machine.
However, he knew there was a chance for real damage. Brooks said there were some tense moments right after the accident.
"When I felt it, I didn't want to see it, so I just took my right hand and kinda just felt my left hand and made sure all my parts were there, thank goodness."
The incident was cause for alarm among many of the recording artist's most dedicated fans. While he's releasing a new album of his won work, it was the release of "Shallow" that had people quite excited for the end of the October.
The song was originally front and center when Bradley Cooper and Lady Gaga sang it in the recent remake of A Star Is Born. Brooks and Yearwood put their own spin on it.
Garth Brooks On The Mend
The singer's recent interviews seem to indicate he understands things could have been quite a bit worse. it was only through sheer luck that a mishap with a chop saw wasn't devastating to his hand and his return to the music scene.
"Shallow" is the fourth single from his new project, Fun, an album Brooks teased for nearly two years.  Fun will release later this month. "Shallow" follows the Top 10 hit "Dive Bar," the Top 20 hit "All Day Long" and "Stronger Than Me."
Considering he is starting to play the guitar again, it appears he's well on the road to recovery and will be able to do more to promote his new album moving forward.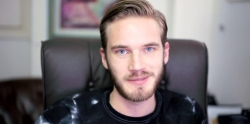 Latest posts by Teddy Lincoln
(see all)