Luke Bryan is the proud "owner" of Tim Tebow's Heisman trophy, at least for a little while. While he has it, he's not afraid to use it. The country music singer isn't using the trophy to get girls. He's not using it as a conversation piece at parties. Instead, he's using it to try to hurt the mojo of the Florida Gators on the same weekend they take on Bryan's beloved Georgia Bulldogs.
The recording artist divulged that he has Tebow's trophy earlier this week. Posting several photos and videos on Instagram, he also told his fans how he got the award in the first place.
"Last year at the Red Bird Games," Bryan began. "My wife — well Tim Tebow showed up to the Red Bird Games and offered up his Heisman up for auction to donate to the Brett Boyer Foundation. And my wife bid and won Tim Tebow's Heisman to be in our home."
A Long Wait For Tebow's Heisman
Bryan and his wife won the bidding last year. Tebow's hardware didn't end up in his home until very recently.
The country singer won't get to keep it forever. He'll host the Heisman for the next six months.
He's making the most of it now that he has it.
For those who aren't College Football devotees, they award the Heisman Trophy to the best football player in the sport every year. In 2007, the honor went to then-Florida Gators quarterback Tim Tebow.
At the time, he was the first underclassmen to win the award. Along the way Tebow caused plenty of problems for Bryan's favorite squad. Florida and Georgia have a yearly rivalry football game called the Cocktail Party.
The game takes place on Saturday, November 7 this year. In order to celebrate the coming of the big game, Bryan has been taking the Heisman with him all over his house, even into the bathroom.
He made it clear on his Instagram account that his goal is simple. He wants to take away any good luck the Heisman might give to Florida and impart it to Georgia. The recording artist also jokingly said he thinks the timing of the arrival of the statue was on purpose.
The country singer said he thought Tebow allowed the trophy to be in Bryan's home  in order to try and jinx Georgia. Because of that, turnabout is fair play.
Luke Bryan And His Love Of Georgia
The entire Bryan family are big fans of the Bulldogs. Because of that it seems as though there was plenty of acceptance of his trolling with the Heisman Trophy.
Luke, Caroline, and their two sons Bo and Tate visited Georgia's campus just last month. His nephew, Til, is a freshman at the school. It's a safe bet the entire clan is going to be rooting them on against Florida this weekend.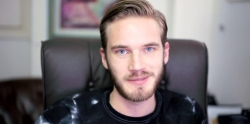 Latest posts by Teddy Lincoln
(see all)