It's beginning to look a lot like Christmas. Thanks to Kelly Clarkson, it's also beginning to sound a lot like Christmas.
The country music star took the airwaves earlier this week with yet another Holiday cover. She appeared on the Kelly Clarkson Show with a cover of one of the most beloved songs of the season.
Clarkson covered the winter classic "It's Beginning to Look a Lot Like Christmas," and according to PopSugar, she absolutely nailed it. Those who watched her performance said that Clarkson continues to impress with her ability to make every song she tries, fit her voice perfectly.
The singer has had a good year, for the most part and she wanted to celebrate Christmas by giving a little back to her fans. We're less than a week away from Christmas day and that means it's officially time to make sure we all have the Holiday music on as often as possible.
During the December 18 episode of her program, she took to the stage to share the sounds of the season. However, it appears she felt as though this song could stand on its own.
The singer had been wearing very festive outfits all week. During her rendition of "It's Beginning to Look a Lot Like Christmas," however, she went with a much more understated look. She wored a simple black dress during the performance, giving it just a little extra boost of class.
Kelly Clarkson Belts Out Christmas Tune
"It's beginning to look a lot like Christmas/ Everywhere you go/ Take a look at the five and ten/ Glistening once again/ With candy canes and silver lanes aglow/ It's beginning to look a lot like Christmas/ Toys in every store/ But the prettiest sight to see/ Is the holly that will be/ On your own front door," Clarkson sung with just a little bit of help from her backup singers.
All the while the song was going on, screens behind her lifted the Christmas spirit even more as they showed pictures of the season.
This was hardly the first time Clarkson covered a Christmas classic. Over the course of the month, she's performed her own version of the season's favorites.
She's covered Dolly Parton's "Hard Candy Christmas" and Judy Garland's "Have Yourself a Merry Little Christmas." She also performed "All I Want For Christmas Is You"  and a new duet "Under the Mistletoe," with Brett Eldredge.
Guests Celebrate Christmas
Clarkson hasn't hogged the spotlight with her Holiday songs either. Over the course of the month, several guests performed classic tunes as well. Mandy Moore and Tori Kelly both made appearances.
There's still a week until Christmas Day. We'll have to see what else is up Kelly Clarkson's sleeves.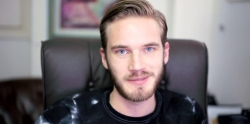 Latest posts by Teddy Lincoln
(see all)