Tyler Rich took to Twitter on New Year's Eve to announce a grisly find as he got ready to ring in 2021. The country music star found a dead body when he was on a December 31 run.
He planned on going for a 2.5 mile jog but the workout was cut short. He said he cut through a heavily wooded area when he came across the body.
At first, he thought it was a young homeless man lying face down. As he got closer, he learned the truth. He ran around what he thought was the sleeping man, but suspected something when there was no reaction at all. He turned around to make sure the man was ok, and discovered he was very much not.
Rich eventually realized the man wasn't breathing. He came in close to see if there was something he could do to help. "All I see is a lifeless face covered in blood," Rich wrote.
The singer didn't have his phone at the time so he went looking for someone else. Eventually, he came across a couple who allowed them to use his phone to call local authorities.
Once the police arrived, Rich said he spent "about an hour" giving official statements.
Tyler Rich Finds Potential Suicide Victim
Once the police arrived, Rich said they found a gun under the dead man. That led those at the scene to speculate the man committed suicide. The singer said there was something a bit reassuring about the fact that this person wasn't a murder victim, though he still understood the gravity of the situation.
"There's not any type of thing that could help me cope with finding him like this," he wrote on Twitter. "Knowing that he wasn't there discarded by someone else and that he was there where he wanted to be, will at least put me a little more at ease."
Not the way I planned on closing out 2020. This will be an image & moment I'll never forget. I need to shoutout first responders & our military that look death in the eye every day, and are able to continue to live their everyday lives. https://t.co/3sRM2LN2Ux @MassAppealWWLP pic.twitter.com/NEfiKJuCFS

— Tyler Rich (@TylerRichMusic) January 1, 2021
Processing the Find
While Rich said he was relieved the man wasn't a murder victim, it's clear the country star is still trying to find a way to deal with his grisly find.
"I'm doing what I can to process this, the image, the reality. It's been a rough 24 hours," he wrote. "Something I'll never unsee or forget … He looked like a young, normal kid. Someone with a family probably wondering where he was."
The "Feels Like Home" singer added the find is something that's going to stick with him for quite a while. He also wanted to make sure that he gave a shoutout to the first responders who came when he called.
The country music artist has a new found appreciation for what they deal with on a daily basis.
It's safe to say Tyler Rich is going to remember this New Year's Eve for years to come.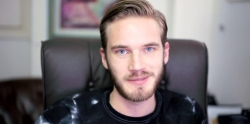 Latest posts by Teddy Lincoln
(see all)