---
Runaway June's Jennifer Wayne and singer-songwriter Austin Moody tied the knot over the weekend. The two were married following a rather short engagement period. While having dated for quite a while, the two became engaged just two weeks ago. It appears they couldn't wait to walk down the aisle together.
According to People, the pair were married in Santa Rosa Beach, Florida. Because of the continuing coronavirus pandemic, the ceremony was quite small.
Wayne, 38, and Moody, 29, opted to have wedding ceremony on the beach with less than 20 guests. In the end they ended up inviting only immediate family and best friends. It's possible that Wayne's own brush with the virus colored how the new couple chose to celebrate. Over the summer, the Runaway June member battled the virus and was quite sick for a while. She eventually fully recovered. Now what could have been a very bad year has come full circle for the new bride.
"We are taking COVID very seriously and have requested that all of the guests receive a recent COVID test before attending," the couple said ahead of their big day. "We are having the ceremony outdoors with plenty of room to social distance."
Jennifer Wayne Planning Big Party For Later
While the couple is being careful now, they aren't done partying just yet. Both Wayne and Moody said they're planning for after the pandemic calms down. Then and only then will they have a big bash. The event will allow more of their friends and extended family to celebrate right along with them.
It's possible the bigger party will take place back home in Tennesee. This time around, they did the deed in Florida because Wayne loves the beach. Still, the pair said they brought plenty of "country" flair to Florida.
"It's a cowboy/cowgirl themed wedding," they said before the big event. "Everyone will be in boots and hats."
After Wayne and Moody tied the knot, they sailed off on a boat. One of the reasons they wanted to do the deed in Florida, is because Wayne grew up near the ocean. They paid homage to her upbringing as they walked down the aisle.
The Wedding Party
Those allowed to partake were an eclectic group. Wayne's sister, Annie Cadwell, and her best friend, Andrea Rothe, served as the maids of honor. Dianne Krus — whom Wayne called Moody's "guardian angel" throughout his 11 years in Nashville — married the couple. They wrote their own vows.
Humans weren't the only ones in attendance. Moody's two dogs served as ring bearers.
Wayne and Moody met five years ago, but it wasn't until last year that they reconnected and found romance. It was after Moody found a stray dog and alerted Wayne's friend. That friend, Runaway June bandmate Natalie Stovall said told him that Wayne routinely saved dogs. The two met up and the rest is history.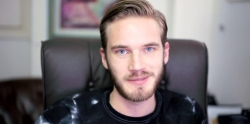 Latest posts by Teddy Lincoln
(see all)