Kane Brown recently shared some interesting details about his first kiss. Not only was the country singer rather young, but the girl he kissed was also almost twice his age.
According to Music Mayhem Magazine, Brown told the story when he appeared with comedian Theo Von on YouTube. During the interview, the singer was asked if he remembered his first kiss.
It turns out the answer was quite a bit more colorful than Von likely expected.
"My first kiss… I was in a trailer park and I was like 7 years old and she was like 13," Brown responded.
Von then asked how the country star even met the girl. Brown said she was a neighbor in the trailer park that was owned by his grandmother. The comedian was blown away by the coincidence of that first kiss, but also wanted to know more of the story.
The singer went into detail about that very first kiss felt like.
"Mine was like everybody's first kiss," he explained. "It was like I left, I didn't stay and I don't even think I talked to her again after that. It was like a-okay, that was cool."
Unsurprisingly, Brown wasn't willing to name the girl who was his first romantic interlude. It's entirely possible he doesn't even remember who she was at this point.
Kane Brown Tells Trailer Park Tales
The singer talked most about his experiences in the trailer park. That included what Halloween was like in that area. Despite having a very good time misbehaving, he also had one very memorable time that couldn't have been all that enjoyable.
"It was sick, it was honestly probably the best time of my life," Brown said. "I got caught smoking cigarettes, my papaw made me eat the pack afterwards, he made me literally chew the whole pack."
Hard At Work
The singer might have spent a decent part of the interview talking about his past, it's a safe bet Brown is also very focused on the present.
He is currently hard at work on the follow-up to his latest EP, Mixtape Vol. 1. That album was released this summer.
The EP has went on to achieve many of accolades and hit singles including "Cool Again," "Worldwide Beautiful" "Worship You" and his Top 40 radio single, "Be Like That" featuring Khalid and Swae Lee.
While he's had plenty of success in his professional life, he's also had quite a bit of success in his personal life.
Brown married Katelyn Jae in 2018 and the couple has a daughter together. One look at his social media posts shows a man who is quite dedicated to his little family. To hear him tell it, his life has only gone from good to better.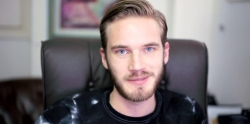 Latest posts by Teddy Lincoln
(see all)