Famed crooner BJ Thomas is looking for prayers. The Country Music legend announced on Tuesday afternoon he got some very bad news from his doctors. He's currently suffering from stage four lung cancer. The singer's account issued a statement on Twitter explaining that he's currently in a Texas hospital receiving initial treatment.
In addition to the statement that told fans where he was currently getting treatment, Thomas issued a heartfelt message to his wife. He called her his "rock" of 53 years in the tweet.
"I just wanted to take this unique opportunity to share my gratitude to Gloria, my wonderful wife and my rock for over 53 years, my family, friends, and fans," Thomas shared. "I'm so blessed to have had the opportunity to record and perform beautiful songs in pop, country, and gospel music, and to share those wonderful songs and memories around the world with millions of you. I ask all of you for your prayers during this time and that my music can live on with you."
More than a few of his fans felt like his message seemed like one from someone who understood how serious stage four cancer really is. Some even noted that it appeared to be a goodbye, if he didn't get another chance.
"All my best to you my friend," one follower wrote. "Know that you have the love and support of many people as you begin this fight. We are all with you."
Statement from BJ Thomas pic.twitter.com/qirooNJfbT

— BJ Thomas (@TheBJThomas) March 23, 2021
Fans Tell BJ Thomas About Treatments For Cancer
While some fans felt as though he might be bidding adieu, there were several who weren't willing to take the news with some fort of finality.
"All the best for a recovery," one fan wrote. "And hopefully seeing you posting here again soon. We know better treatments are available for lung cancer, so stay positive. Your recordings are still heard and iconic."
One fan made it extra personal. She made sure that Thomas knew both she and her husband were sending positive vibes.
"Wally and I are sending you our positive thoughts and prayers for your recovery," she wrote. "We love you!"
The Singer's Iconic Career
Thomas' career has lasted long enough that even those who aren't country or gospel music devotees have undoubtedly heard his music.
He's best known for songs like "Hooked on a Feeling," "Raindrops Keep Fallin' on My Head," "I Just Can't Help Believing," "(Hey Won't You Play) Another Somebody Done Somebody Wrong Song," and more.
Thomas is also well decorated for his work.
He's won Grammy and Dove Awards for his work. "(Hey Won't You Play) Another Somebody Done Somebody Wrong Song" was nominated for a CMA Award for Song of the Year in 1975.
Despite being best known for his work in past decades, BJ Thomas has continued working into the 21st century.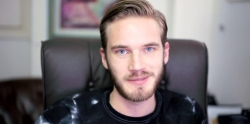 Latest posts by Teddy Lincoln
(see all)