Carrie Underwood is well known around the world as one of the most successful singers of her generation. She's also thought of as a successful businesswoman and entrepreneur. While there's very little mystery surrounding her, there are few more questions surrounding her better half. At least from those who aren't sports fans. Those who ask "who is Carrie Underwood's husband?" likely aren't professional hockey fans.
First and foremost, Mike Fisher is a former NHL star who spent 19 seasons in the league. While he spent the first half of his career with the Ottawa Senators, he finished up his long run -especially by professional athlete stands – in the league with the Nashville Predators. It was with the Preds that Fisher met his eventual wife and mother of his children.
The Meet Cute
The country singer met her husband on what was reportedly a blind date. The meetup was apparently set by Underood's bassist Mark Childers. Originally, the singer wasn't all that excited about the idea. Fisher was still with Ottawa back then. Underwood didn't like the idea of trying to date someone who lived in an entire other country. Even if he did come into the states now and then for his job.
However, despite her trepidation, the singer agreed to the date. Once the two met, it didn't take long for sparks to fly. Underwood thought Fisher was "hot, hot, hot" right off the bat. Fisher felt that his future wife was "more beautiful than what he'd seen on TV.
The pair started off slowly, talking on the phone quite a bit. Their first real date was on New Year's Eve, 2008. It was also their first kiss.
"We were in front of people, and he's not a big PDA guy," she once recalled. "I figured, I'll go in for it because he can't leave me hanging, right? So I made him kiss me in public."
Mike Fisher Becomes Carrie Underwood's Husband
Less than a year after the two shared their first kiss, he proposed. In July 2010, the two tied the knot.
Even after they were married, Fisher and Underwood had to make plans separate from one another. The hockey player was still with Ottawa. However, things ended up working out, as the Predators signed him as a free agent. That meant he was able to finish his career much closer to his wife.
In February 2015, Carrie and Mike welcomed their first son, Isaiah, into the world. In January 2019, the couple had their second child. Along the way, Underwood admitted things weren't always rosy when it came to getting pregnant. She once divulged she had three miscarriages.
Despite that, when talking about the singer and Carrie Underwood's husband, things seem to be going quite while these days.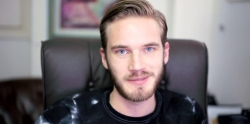 Latest posts by Teddy Lincoln
(see all)