Kane Brown's wife, Katelyn Brown doesn't exactly keep a low profile. The country singer's wife is all over the place on social media, usually standing right next to her famous husband.
The young Mrs. Brown, once known as Katelyn Jae doesn't have deep country music roots. That doesn't mean she hasn't fit right in since meeting her beau.
She was born in Philadelphia, Pennsylvania. While she might have been born into country music, she has long been interested in music in general. She graduated from the Berklee school of music in 2019.
Kane Brown's wife first became Kane Brown's romantic interest after the pair met at a Florida Top Golf center. They didn't talk much at their first meeting. The singer did manage to find her on Instagram after the meeting and messaged her, asking when they could meet up for an actual date.
Eventually he decided to fly Katelyn down to Nashville so they could have a nice dinner and she could meet some of his friends.
When they did finally meet it, the singer said it didn't take long to realize that she was "the one" for him. He said in one interview a few years back that they shared many of the same interests and hit it off right away.
Kane Brown's Wife Before The Spotlight
When she was still Katelyn Jae, she grew up in family that saw her parents split when she was young. She was originally Katelyn Rose Krapf and was raised by her mom with two brothers. Eventually her mother remarried, Pennsylvania Congressman Jim Gerlach.
While she led a rather normal suburban Pennsylvania kid's life she did find singing rather early on.
She started singing at three-years old but when she was 11, a music teacher that heard her version of Celine Dion's "My Heart Will Go On" really started her eventual career.
Eventually she appeared on both The Voice and American Idol.
When she met her now-husband, her career seemed to be headed more for one that involved pop music, than country. Nowadays, she does a little of both.
The Happy Couple
After a relatively short courtship, Kane decided he wanted to marry the love of his life. Even though the two feel as though they are rather down to earth, the country star admits the way he asked Katelyn Jae to become Katelyn Brown was anything other than ordinary.
In fact, the singer, who has since carried out a couple of duets with his now-wife, admits the proposal wasn't normal. He said he proposed to her while they were watching Amityville Horror. Since then, the couple have welcomed a daughter into the world. So far, appear to be getting ready to live happily ever after.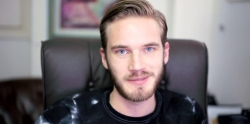 Latest posts by Teddy Lincoln
(see all)