Morgan Wallen has had a rough 2021 but his fans want him to know they support him, just days ahead of the 2021 ACM Awards. Music Mayhem Magazine reports that fans of the country singer, paid for several billboards which popped up over the last few days. Those billboards are geared towards celebrating Wallen just six days ahead of the 2021 ACM Awards.
One fan who contacted Music Mayhem, a group of his supporters formed a little fund. Those fans also started a social media campaign called the "Movement for Morgan." The billboards and the social media campaign is all meant as a response to the backlash the singer has seen online. That backlash started after a video of him using a racial slur circulated online in February.
The fan group said it originally hoped to pay for one billboard. Instead, it raised enough money to pay for six of them.
The billboards popped up in Nashville just days before the 2021 ACM Awards where organizers previously banned Wallen's "involvement and eligibility" following his use of the racial slur. At the time they banned the singer from the event, it issued a statement making it clear as to why.
"The Academy does not condone or support intolerance or behavior that doesn't align with our commitment and dedication to diversity and inclusion," the organization's statement read.
Morgan Wallen Gets More Support
The fan group said it knows the billboards aren't likely to get Wallen back into the ACMs. However, those involved simply want to cover Nashville with support for the singer.
"This idea was really our way of trying to 'right the wrong' of cancel culture," one fan shared. "We just wanted to 'Wallen-Paper' Nashville during the week of the ACMs to show our support for Morgan!" Later adding, "We LOVE him and his music and we wanted to do the right thing! He is an incredibly talented young man and doesn't deserve what he's going through right now!"
The billboards are meant to reference the awards. The caption on them reads, "His Fans Choice Entertainer Of The Year." That caption goes alongside the depiction of a mullet.
Wallen's signature phrase "GAHT" is also featured next to bible verse "Mark 11:25." That verse refers to forgiveness.
A second design reads "Support That Boy From East Tennessee." That's alongside "His Fans Choice Entertainer Of The Year." It also features the GAHT catchphrase. Both of the aforementioned designs are on rotation throughout downtown Nashville.
What's The End Game?
It isn't immediately clear what the end game of the fan group is. Those involved seem to understand the billboards won't get the ACMs to change its mind. At the moment it appears they are merely up there so Morgan Wallen can see his fans haven't deserted him.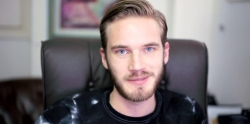 Latest posts by Teddy Lincoln
(see all)