Travis Tritt took to Instagram on Friday to talk about what he called a "perfect day." What appeared to be chief among the reasons why the country music legend was so happy, is that he was able to actually play in front of live people again. The singer also heard about some new success from one of his newest releases.
Tritt just released "Set in Stone" on May 7 and it's already apparently rocketing up the charts on Apple Music. The singer said it had reached as high as number three not long after launch. The new work is something the artist has said he's quite proud of, because if shows how far the industry in general has come since he first started out.
Travis Tritt Works With Top Talent
Tritt recently talked to Wide Open Country about the work he and others put in for "Set in Stone."
"I got so much help in the early part of my career from some of my heroes," Tritt said. "People like Charlie Daniels, Waylon Jennings and Johnny Cash were extremely helpful. They did more than they had to do by letting me know that they appreciated my talent. I think they appreciated the fact that I was always talking about them as my influences and how much they had meant to me musically when I was growing up."
The new album, his first since 2007 is similar in many regards. Along the way, Tritt worked alongside Ashley Monroe, Brent Cobb, and Channing Wilson among others to put the album out.
As Tritt was celebrating the arrival of the new album and its success he was also getting to play some of that new music live. It's understandable why just that little act, something that used to be commonplace would make a "perfect day" in the face of the pandemic.
It's been more than a year since live concerts were allowed in most of the country. People getting vaccinated has allowed some states to open back up. Those same states are rewarding citizens with concerts like Tritt's.
Fans Celebrate As Well
After Tritt posted a few pictures from his performance on social media, his fans were quick to express their joy over the day as well.
"I can't imagine a more perfect day," Tritt captioned the photos. "My new album hits the top 3 on the @applemusic country charts and I got to play a show tonight in front of a fantastic audience in South Carolina! Thanks to the best fans in the world!"
Among those who celebrated along with him was Wilson.
"Hell yeah brother!" Wilson wrote.
"So awesome having you in Greenville," another fan wrote.
Others expressed their happiness at getting to see the show on his page as well.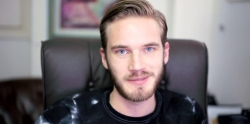 Latest posts by Teddy Lincoln
(see all)