Kane Brown is no stranger to receiving an AMA. However, he's probably unaccustomed to receiving the trophy that comes along with the honor, outside of a fast-food restaurant.
The COVID-19 pandemic has changed everyday life in a number of different ways. When people talk about the adjustments they had to make they probably weren't talking about receiving an AMA outside a local Burger King.
However, that's exactly what happened to Brown. The recording artist put up a video of how this unfolded on his personal Instagram page. While he seemed greatful, and a bit baffled at what he was unwrapping, the person taking the video, most likely his wife Katelyn found the humor in the situation.
Viewers can hear her giggling as she shoots the video. She also took great pains in panning over, away from Brown to show what was very much in the vicinity. As she continued to giggle, it became clear they were just a few feet outside the Burger King.
The humor in the situation wasn't lost on Brown's fans either. After he posted the video to his social media account, there were plenty who commented about how odd the whole thing was. Others wondered why it absolutely had to be delivered right there.
View this post on Instagram
Kane Brown's AMA Is A Whopper Of An Award
One Instagram follower pointed out that this situation underlined that Brown hasn't gone "big time."
"This is comical," she wrote. "But also shows how you are still a real as they come. Don't ever let fame change you"
Other fans pointed out how weird it would be for people driving by that Burger King. They might have noticed a couple of people by a car fiddling with something. They almost certainly didn't realize it the something they were fiddling with was Kane Brown's AMA.
Yet another fan thought there was a chance to turn the scene into a business deal.
"Burger King better get that endorsement deal drawn up," the fan joked.
Fast Food Diet Doing Wonders?
While most of Brown's fans were laughing at the absurdity of the situation, others were noticing the singer had beefed up. Pair that with the fact that he was wearing a Dallas Cowboys shirt and several of his followers couldn't help but comment on that.
"If you don't chill on the weights soon people gonna start thinkin you're a cowboy," one follower wrote.
Others made comments about how filled out the shirt. Still, others simply remarked they loved the fact that he was repping their favorite team.
Amidst the commotion of the day, the fact that Brown has quite a streak going might have been missed. This is the third straight year he's taken home an AMA for Favorite Country Male Artist. Knowing that, it's not a surprise he received the award at all.
The real question is … how did they find him in the first place?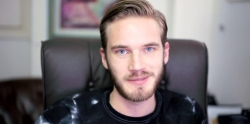 Latest posts by Teddy Lincoln
(see all)