Tim McGraw is quite the renaissance man. While he still has a strong singing career, he's also managed to forge quite the acting career. Now, alongside wife Faith Hill, he'll be appearing in the Yellowstone prequel, 1883.
McGraw made the announcement on his social media channels, finally letting the cat out of the bag. There had been rumors he might be attached to the project for quite a while, though there hadn't been confirmation before now.
1883 follows the earlier Dutton family as they embark on a trek west through the Great Plains toward the last bastion of untamed America. The Taylor Sheriden penned series is billed as a stark retelling of Western expansion. It's also intended to be an intense study of one family fleeing poverty to seek a better future in America's promised land — Montana.
Alongside McGraw and Hill, Sam Elliott is set to play Shea Brennan, a tough-as-nails, handsome cowboy with immense sadness in his past.
Elliott's character is tasked with guiding a group from Texas to Montana. McGraw and Hill will portray James and Margaret Dutton, the respective patriarch and matriarch of the Dutton family. While the rest of the cast hasn't been filled out yet, it's expected to be announced in the next few weeks.
Tim McGraw Excited To Join The Cast Of 'Yellowstone' Prequel
Speaking to Deadline before he announced the show to his fans, McGraw expressed excitement about starring in 1883.
"This is truly a dream job." the singer and actor said. "Taylor has found a way of storytelling that brilliantly creates these epic dramas and family sagas with so much depth and creativity. The Duttons are tremendous characters, and it's so thrilling to be able to bring them to life. As a kid growing up riding horses, you think about dream jobs like this, and I am just so excited to work with this amazing cast and crew."
On his social media channels, he echoed the sentiment of being ready to get to work. He also said it had been hard for him to keep the secret as long as he did. Finally he added that was why he had the beard some of his most ardent fans had started to notice.
'1883' Running Alongside 'Yellowstone'
While the country singer is slated to take on the starring role in the prequel, it should be pointed out that the series that started it all is still going strong.
Yellowstone shows the modern version of the Dutton clan, led by Kevin Costner. The show, which depicts a rather rich and powerful family still having to deal with trials and tribulations, is returning for a fourth season.
While an official date hasn't been announced yet, rumors are the show is eyeing November as the potential return date.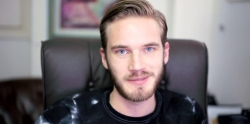 Latest posts by Teddy Lincoln
(see all)