Blake Shelton is not too happy that The Voice producers are reportedly planning on telling him, "thank u, next."
Unverified rumors spread this week that the NBC singing competition is looking to permanently replace Shelton with someone younger, due to the popularity of this season's newest addition, Ariana Grande.
The longtime coach and country singer isn't going out without a fight. In fact, he's hitting back at the other person at the center of those rumors. It appears that he and Grande have been texting back and forth since the reports surfaced.
With to a photo dump that Grande posted on Instagram on Sept. 24, the young singer showed that the veteran coach gave her his unfiltered reaction to the potentially demoralizing rumors.
Her text screenshot showed Blake Shelton sharing a link to one article, which claimed, "Producers at 'The Voice' May Replace Blake Shelton After Ariana Grande Brings a 'Fresh' Energy."
Alongside that screenshot, the country singer texted her, "Thanks a lot Ari… Thanks a f–kin' lot."
Blake Shelton And The Bad Blood Rumors
For those who are worried that there appears to be some sort of feud showing, it turns out they don't need to get too worked up. In the same photo dump, Grande hearted a number of his texts on the issue. That would hint that perhaps he's not as angry as the language of the texts hints.
It would of course, seem a bit strange if the longtime country singer was really going after Grande like that. It is not her fault even if the producers really did think it was time for Blake Shelton to move on.
However, the "pov" singer did throw shade back in her own way on Instagram by sharing an edited clip from Mean Girls directed at Gwen Stefani's new husband.
The clip shows Regina George, played by Rachel McAdams, writing about herself in the infamous "Burn Book" — except instead of pasting her own photo to the page, Ari edited it so it looks like she's posting a photo of Shelton.
It appears that this "feud" between the two singing coaches has gotten the attention of the rest of the cast. Another one of The Voice coaches, John Legend, commented in support of Grande by writing, "Fantastic."
Real Tension Or Not?
While it appears Blake Shelton's comments to Grande were in jest, there have been times on The Voice when there also appeared to be a bit of tension among the coaches.
During the first week of Grande's season as a coach, she and Legend walked off the set after Shelton and Kelly Clarkson, got into it an argument while trying to convince contestant Lana Scott to join their respective teams.
"Can Ariana and I talk at all?" Legend asked while this was going on.
"No," Grande responded after Blake Shelton flat-out ignored Legend's request. The two then stepped off stage to "get a snack" as the other coaches continued to duke it out.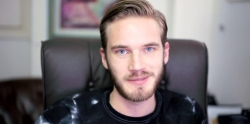 Latest posts by Teddy Lincoln
(see all)