Jason Aldean is well known as someone who doesn't follow the crowd. That's especially the case when it comes to recent issues that have become political.
However, he's usually not someone who goes out of his way to court controversy. It appears both he and his wife Brittany are no longer worried about that sort of thing. The couple came under fire for their political beliefs last week. However, in the wake of massive criticism, the singer wants people to know he's not backing down.
During a recent Instagram post, the country music star made his opinion known beyond a shadow of a doubt. "I will never apologize for my beliefs or my love for my family and country," he wrote. "This is the greatest country in the world and I want to keep it that way."
Jason Aldean Wades Into Controversy
So why exactly did the singer decide he needed to make that statement? It started with another Instagram post. The social media entry in question actually came from Brittany.
She shared several pictures of herself and her two young children in anti-Joe Biden T-shirts. The first is of 3-year-old Memphis wearing a black T-shirt that reads, "Hidin' from Biden."
At first, the post seemed to only be getting positive feedback. Most of Jason Aldean and his wife's fans have the same kind of political views as they do. However, as the post started getting talked about more, pushback began.
Several of the people who were most upset didn't like that the couple involved their kids. They pointed out that a 3-year-old wouldn't understand the message he was sending.
The Aldeans haven't been quiet about their political ideology, but this series of photos is the most overt statement to date. In January, Brittany responded to the riots at the U.S. Capitol with a photo on Instagram Story showing two people involved and a caption that read, "Antifa disguised as Trump supporters … Shocker." The validity of her statement was later debunked, and her photo was removed from the platform.
On the country star's Instagram page, there is no mention of these T-shirts. Instead, he posted the cover of his just-announced two-part album Macon, Georgia. The first part (Macon) will drop on Nov. 12.
Doubling Down
While Jason Aldean originally avoided the controversy, he waded in once his wife started getting criticized.
Alongside the message that he would "never apologize" for his political beliefs, he seemed to double down. He made another post where he made news by offering a T-shirt of his own, for sale on his official website for $35. "Jason Aldean '24" it reads. The message appears to act as if he's planning a run for political office. "Get the BS out of the US."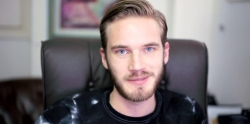 Latest posts by Teddy Lincoln
(see all)