Some might think that Jon Pardi is far too big a star to ever get surprised even when a country legend comes back his performance. However, it turns out that the country music singer can still be struck dumb when one of the biggest names in the business swings by, especially unexpected.
In fact, Jon Pardi got an unforgettable surprise visit from a musical hero recently, when Randy Travis unexpectedly turned up when the younger star was in the middle of taping a tribute performance for Travis.
The result was a truly heartwarming exchange between two generations of country traditionalists.  Not even Pardi could keep his eyes dry when explaining what Travis' music meant to him and his family.
"Randy definitely influences me as an artist," Pardi said in a video showing the meeting. "He's one of my heroes, so it's always fun to do something and kinda go full circle. Because I grew up listening to Randy Travis. My grandma loved Randy Travis. And now here I am honoring him."
The clip shows interview footage interspersed with a video of the younger musician performing Travis' "He Walked on Water" on acoustic guitar.
Jon Pardi Blown Away
The country star went in knowing that he would be honoring Travis. However, he didn't realize that there would be a very special audience member for his performance. In the middle of a song, Travis entered the building along with his wife, Mary, and a grin broke across Jon's face.
"Well, hey Randy! This is a surprise. Wow," he said as he finished up the song.
The two men were able to spend some time together during the shoot, with Pardi sharing some of his early memories of listening to Travis' music. Including the moment where he got a bit choked up talking about what it was like growing up as a fan of Travis.
Randy Travis Tribute
At the end of the clip, Pardi is once again seemingly overcome by tears, this time as he's singing the final lines to "He Walked on Water." Travis, sitting beside him, laughed good-naturedly as he watches Pardi overtaken by emotion. At the same time, he seemed moved by the emotion being shown by the other, younger man.
🚨 WARNING 🚨 This video of @RandyTravis surprising @JonPardi is going to make you cry. pic.twitter.com/jfbWq2RVLE

— CMT (@CMT) October 11, 2021
"Everybody needs a good cry every now and then, right, you know? Happy cry," Jon Pardi added when he talked to Travis.
Randy Travis, who is truly one of the great country music legends, was honored as 2021's Artist of a Lifetime during the 2021 CMT Artists of the Year ceremony on Wednesday. It was part of this honor that Pardi was cutting the tribute performance.
It's a safe bet that Jon Pardi is going to remember this one for a long time to come.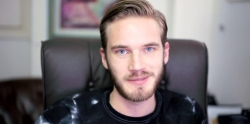 Latest posts by Teddy Lincoln
(see all)