Maren Morris and Ryan Hurd are married. The couple has an adorable son together. Recently, Maren posted a cute picture on her Instagram that ended up getting her mommy shamed. US Weekly shared the details about what is going on and how Ryan defended her. Because of this, you have to see how lucky she is to have a husband who has her back.
Maren Morris gets mom-shamed
Maren recently went to her Instagram to share a cute post. She was sitting on a pool float while drinking. Her 3-month-old son was with her on the float. The two were matching and looked adorable together. It looks like it was just a cute photoshoot. The thing is that it upset a lot of people.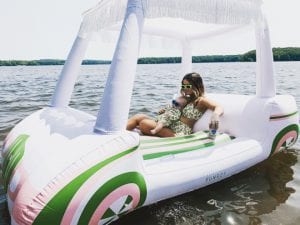 Followers were going off on Maren Morris. Some are upset about no lifejacket. Others are mad that she had a drink in her hand. Fellow country artist Mickey Guyton even defended Maren Morris. She made sure to tell Maren what a great mother she is and not to worry.
Ryan Hurd defends his wife
Ryan is pretty upset about what people have to say. He spoke out and is saying that his wife didn't deserve the shame she is getting. He went to Twitter and shared his thoughts.
"I'd just like to say, my wife usually doesn't need me to defend her, but she's a great mom. My kid was not unsafe on a float in 1 feet of water being held by an adult with 5 people watching so she could get a picture."
He went on after that to say, "Hayes has 2 coast guard approved life jackets that he wears," he continued. "Also, sometimes moms have a drink, and homegirl earned it. Later, nerds ✌🏼." Ryan didn't hold back and Maren is lucky to have that in her life.
After everyone giving her a hard time, Maren shared saying, "Honestly, I get so many criticisms of my motherhood on anything I post of Hayes, so I may just discontinue posting photos of him. Sucks but it's kind of where I'm at." It does look like she will be sharing fewer photos. That upsets fans because they love getting to see updates on their little guy. Maybe in the future, they will feel safe to post again.
Do you think that Ryan Hurd did the right thing? Do you feel like Maren Morris deserved to be mom-shamed? Share your thoughts in the comments below.
Latest posts by Mandy Robinson
(see all)