Latest posts by Mandy Robinson
(see all)
Laine Hardy fast gains popularity as a Country singer and now he promised fans a "nice surprise." Slow out the starting box after he took away the American Idol crown in Season 17, he's busy recording in the studio. And his fans can't wait for more from him. Touted as the potential "Champion of Country" in 2021, hopefully, he drops more originals.
Laine Hardy busy in the studio
Good news came for Country fans on January 22. Laine took to his Instagram and told fans that help keeps himself busy in the studio. Recently, we reported that his vocals and style made fans rave. It came when he played his version of Swingin' by John Anderson for the Artists to Watch series. In fact, many people felt that he performed it better than the original. Which says a lot. After all, Country aficionados seem rather fussy when comes to cover performances. Not only that, but we noted that Music Mayhem Magazine suggested he could end up as the "Champion of Country Music," 2021.
A rising star in his genre, anything he puts out earns a very good reception. Fans like that he stays with his Country roots. Many people these days seem to try and spice it up with something else. As one fan said on Laine Hardy's Instagram, "Love your music. Hope you stay true to yourself and don't go down the path of modern country that's basically rapping and pop 🥴."
 In for a nice surprise
Music Mayhem Magazine noted that Laine works "on new music with producer Michael Knox." Plus, he's alongside "studio musicians Danny Rader, Tully Kennedy, Adam Shoenfeld, Rich Redmond and Kurt Allison."
The caption in his latest post read, "Been in the studio working on a ton of new music this week. If y'all think I released a lot in 2020…you're in for a nice surprise!" Well, if you love Laine, "a ton of music" sounds wonderful. After all, in 2020, the coronavirus meant cancellation of Live tours, so fans settled for virtual tours.
Most fans just hope it all drops soon. Many of them responded to the news by Laine Hardy. One of them commented, "you need to release rope swing that you played at your concert!!!💕" And another person agreed, writing, "totally 💯 we want "rope swing" and "easy being me."
People still recall Laine's V-Tours. One of them commented, "Can't wait. Loved the v-tour … "Lessons" is a great song. Hope it is one you will release."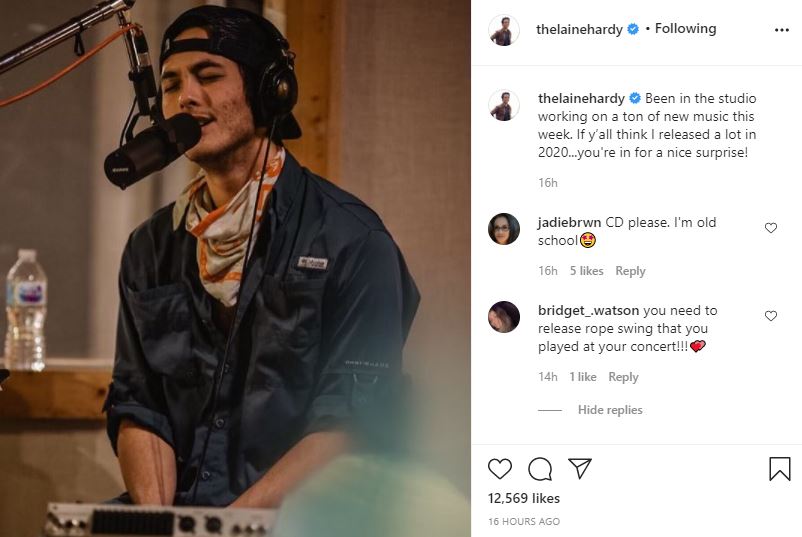 Confidence and artistry
These days Laine looks quite different from the shy young man who first auditioned for American Idol. He appeared in the next season and gave it another shot. Literally, as they watched him work his way up to victory, fans saw his confidence blossom. And now, they watch him master his artistry. 2021 might really be a year to remember for Laine Hardy fans.