Stargazers are obsessed with crossover couple Gwen Stefani and Blake Shelton. The ska rebel from the 90s and the cowboy have a fairytale romance. With any relationship comes speculation about marriage. In recent months, the couple has faced rumors that they are already married. What's behind the rumors? 
Blake Shelton and Gwen Stefani's Romance
The unlikely pair first met in 2014 when Gwen Stefani joined The Voice as a judge. Blake Shelton has been a judge on the NBC show since it debuted in 2011. The two became fast friends. 
However, their friendship didn't turn romantic until 2015. They bonded over their respective divorces. As fans know, Blake was previously married to Miranda Lambert. Gwen Stefani was married to Bush singer Gavin Rossdale for 14 years. 
The musicians are not only romantic partners, but also collaborators. They have teamed up on several songs since their first duet, "Go Ahead and Break My Heart." Their song together, "Nobody But You," reached #1 on the charts.
Additionally, the song won the duo the 2020 CMT Award for Best Collaborative Video. 
The Couple Have Never Announced an Engagement, But Everyone Thinks They Are Married
Gwen Stefani and Blake Shelton have been together for 5 years. That's long past the time most couples would be married or at least engaged. While neither has given any indication of an engagement, people think they are already married. 
Earlier this summer, Gwen Stefani did an interview with Dua Lipa. During the interview, Dua Lipa referred to Blake as Gwen's husband. While Gwen corrected the singer, it clearly wasn't the first time someone made that mistake.
Per Extra, Gwen said, "Do you know how many people say my 'husband' about him? I guess we're just together… people got used to it or something like that, but it's pretty cute."
Since that interview, the status of Gwen's relationship has come up in seemingly every interview. During a recent appearance on the Today show, Gwen answered 'Most Googled Questions" about herself. Host Hoda Kotb noticed that almost every question was about an engagement or marriage. In fact, one outlet claimed that Gwen and Blake's 2020 wedding had to be postponed. 
This prompted Hoda to ask, "So, what's happening with the wedding?" Gwen laughed in response and said, "Oh, that's a really good question."
So, if Gwen and Blake are really already married, they are keeping fans guessing. 
Gwen Stefani Jokingly Gives Her Most Popular Songs a Country Twang
Many music fans were taken aback by the idea of the No Doubt singer turning country. But not everyone takes it so seriously. Gwen Stefani was a recent guest on The Tonight Show Starring Jimmy Fallon. In a skit, Jimmy Fallon pretends to promote a country album from Gwen. The singer gives fans a glimpse of what her ska-tinged songs would sound like with a country feel. She sings parts of "Don't Speak," "Spiderwebs," and "Hollaback Girl" with a country twang. 
And fans in the comments of the YouTube video are begging for a real country album from Gwen Stefani. Do you think Gwen should make the transition to country music? Head over to our Facebook page and leave your thoughts in the comments.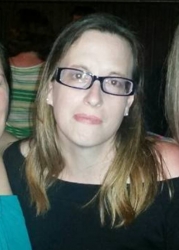 Latest posts by Jennifer Havener
(see all)