Morgan Wallen talks about potential collaboration and fans react on Twitter about SNL redemption. Wallen seems to have come set himself up for a major comeback after his minor setback involving Saturday Night Live. 
Morgan Wallen talks about it all on a podcast with Theo Von.
Country phenom, Morgan Wallen recently spoke with comedian, Theo Von, on Von's podcast This Past Weekend. While speaking with Von, they discuss music, Wallen's future aspirations, who he'd like to collaborate with, and so much more.
When it comes to who Morgan Wallen would like to collaborate with, it seems like there may have been a toss-up. Initially, Wallen shares that if it was "An artist of any time… The Eagles, man, that's who I'd pick." He shares that their music makes him "feel at peace." He goes on to say that, "if I could do a song with the original Eagles, that would definitely be who I'd pick."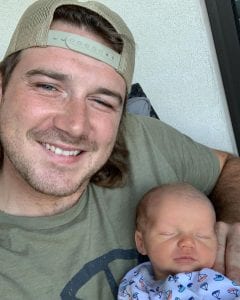 Seemingly fans are all for one of Wallen's collaboration wishes.
However, his next choice of who he'd like to collaborate with seems to shock some people. Morgan Wallen shares, "But if I could do a song right now with somebody, I wanna do a song with Miley Cyrus." His reasoning for wanting to do this collaboration is simple. "I love her voice, man," he proclaims. "She has an insane voice and she kinda just don't care either, and I like that." According to Music Mayhem, the fans are here for it. One fan tweets, "This is one of the few collabs I'd sign up for."
Minor setback for a major comeback?
It seems after a rough couple of months, Morgan Wallen is setting himself up for success. Earlier this year, Wallen was ready to perform on Saturday Night Live. However, when production found out he wasn't taking COVID-19 precautions seriously, he wasn't allowed to perform.
A disappointed Morgan Wallen takes to Instagram to share an emotional message with his fans about getting uninvited to Saturday Night Live. Wallen mentions that he wants to take a step back from the public eye. However, several of his Country music counterparts reassure him that everything will be okay.
Seems that they were right since Morgan Wallen gets his chance to appear on Saturday Night Live on Saturday, December 5th. Wallen will host the show with  Ozark star, Jason Bateman.  To announce his appearance on the show, he posts on Twitter. He captions a photo with, "Let's try this again."
Let's try this again pic.twitter.com/v1CS9c1Kza

— morgan wallen (@MorganWallen) November 25, 2020
Excitingly, this tweet receives a lot of retweets. Unfortunately, some of the comments are a bit harsh. One comment reads, "Yeah, maybe you'll follow safety protocols this time around, you know, we're still in the middle of a deadly pandemic!" However, several fans seem to mirror the sentiment that they are proud of the Country artist. One fan writes, "there's not a man that owns his sh-t more than Morgan Wallen."
How do you feel about a Morgan Wallen/Miley Cyrus collaboration? Are you tuning in to Saturday Night Live for Wallen's redemption performance? Let us know in the comments below. Come back to Country Music Alley for more news about your favorite Country artists.