Notably, 2020 is a year for the record books for The Voice Season 2 quarterfinalist, Raelynn. Luckily, her career has been on an upward trajectory ever since. To include a part in Hallmark's latest Christmas movie, A Nashville Christmas.
Raelynn shares a fan appreciation post.
Recently, the Country songstress takes to Instagram to share her gratitude towards her fans. In the photo, the "God Made Girls" singer is seated sideways in a light blue wing-backed chair. Her hair is on one side with her head in her hand. It appears that she is wearing a flowy white dress with a lace fringe detail at the bottom. Above her shoulder, it looks like she wrote: "thank you."
Given the amount of success Raelynn's had in 2020, it isn't shocking that her fan appreciation post would be lengthy. She begins her post by letting fans know that it is a "FAN LOVE POST." She goes on to pen, "I am beyond grateful that my fans continue to show up for me!" This is seemingly a reference to fans that voted for her on The Voice back in 2012.
Additionally, she goes on to write, "It's because of YOU that 2020 was one of the best years I've ever had musically." Seemingly, this is a reference to the release of her new album Baytown and her various Christmas projects. Baytown is hosts the songs "Bra Off," "Still Smokin'," "Fake Girl Town," and others.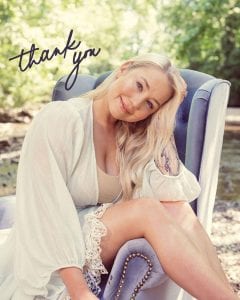 Professional changes for the "Keep Up" singer.
In the lengthy caption, Raelynn goes on to say, "For the first time in my career I have more control over my music, I have ownership in my music…" Fans can't help but wonder if this has something to do with her recent record label change. Shortly after her time on The Voice, Raelynn signed with Republic Nashville. During her time with this label, she writes songs with fellow The Voice alums Nicolle Galyon and Hailey Steele.
However, Raelynn was only with Republic Nashville for four years before signing with Warner Bros. Nashville. With this deal, she releases her album Wildhorse. But, most recently, she signs with Florida Georgia Line's Round Here Records. Through this record company, she releases her wildly popular single, "Keep Up". Also, her album "Bra Off" is released under Round Here Records.
New music announcement.
All of this to say, Raelynn includes a new music announcement in her Instagram post. "…and I have the freedom to get music to you as often as is possible (hint…more coming next spring)," writes the songstress. She goes on to say that while she may have felt "broken" this year, that music will heal everyone and bring us together. She concludes her long caption with "As this year comes to an end, I want to send you all LOVE, HOPE, FAITH AND ALL OF MY DEEPEST GRATITUDE for taking this journey with me. Love ya'll."
Have you been a fan of Raelynn since The Voice? Are you looking forward to new music from her? Let us know in the comment section below. Come back to Country Music Alley for more news about your favorite Country artists.