Laine Hardy stays close to his roots. The American Idol Winner slowly claws his way up as a Country singer to watch. And, over COVID-19 quarantine, he spent some time churning out some originals. The Season 17 winner seemed slow in delivering new music. But he caught the eye of Country Now as a rising star for 2021. Now, he shared a cute photo of himself as a baby. And clearly, the apple didn't stray far from its tree.
Laine Hardy shares a photo of himself as a baby
Laine's got a long way to go before he can call himself the new Country music superstar Tim McGraw. Nevertheless, he slowly grows in popularity. Not a bad claim during a year that saw him frustrated with tour cancellations. Recently, he unveiled his video for Please Come Home For  Christmas. But fans really started becoming excited about him when he dropped Ground I Grew Up On in April. TV Shows Ace reported it came just hours after the audio for Let There Be Country. 
Laine Hardy fans love that he won some fame and fortune but never abandoned his roots in Louisiana. Plus, they love that he remains humble and never neglects his fanbase. Still sounding a bit shocked about how his life turned around after Idol, he continually seems amazed that people like his music. Recently, he shared his thanks that Country Now put him on their list of "Artists to Watch in 2021." Happy fans sent in their congrats. But many more of them flocked to comment on his photo of himself as a baby.
Cute Laine fishing as a baby
Fans love baby photos and other throwbacks. And, what's not to love about Laine sitting with his fishing pole. Plus, his big brother sat with him. And today, they make music together. Laine captioned it with, "Had to go through a bunch of baby pics when I was sending my manager stuff for the "Please Come Home for Christmas" video." Then, he noted that he found this particular baby pic. The up and coming country music star noted, "Y'all know I've been true to my roots since day one. 😂"
One fan of Laine Hardy commented, "So cute! I'm glad you're sticking to your roots. Thank you for being you! ❤️❤️❤️❤️❤️❤️❤️❤️❤️." And, a lot of them called for a "song about fishing." And why not? After all, barefoot kids wearing straw hats, and holding fishing poles go back a long way in American culture.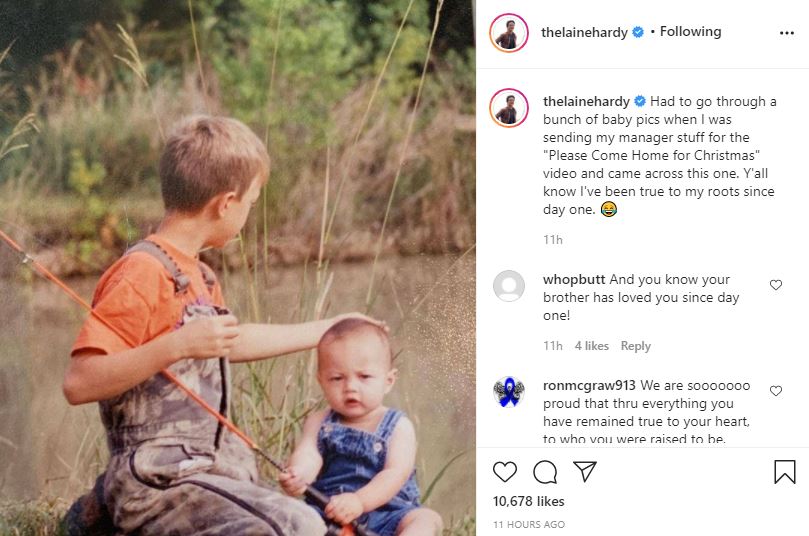 Other fans just enjoy the fact that he still honors his hometown and his country boy roots. One of them noted, "We are sooooooo proud that thru everything you have remained true to your heart, to who you were raised to be. true to who you are becoming! Muddy water-loving people love our Bayou Boy!!!❤️"
What do you think of the cute throwback photo that Laine Hardy posted? Is he fast becoming one of your favorite Country music stars? Sound off in the comments below.
Latest posts by Mandy Robinson
(see all)