Christmas in July is a common saying, but it looks like the McGraw-Hill clan just can't get enough of Halloween. The whole family has been showing their fantasy chops by dressing up as popular characters. Tim McGraw shared pictures of himself and his leading ladies earlier this week in their best Game of Thrones attire. And today he posted a fun pic of the family having even more fun by doing Harry Potter justice with their stellar costumes. Tim and Faith are showing everyone that Christmas in quarantine is as fun as you make it.
Make your own fun with inspiration from Tim McGraw
When it comes to 2020 we all have to be really creative in making our time together special. With so much time with our families due to quarantine, it is easy to take the time for granted. All the little moments become memories and those are what will always matter the most. Tim McGraw and his family have found a fun and unique way to make this Christmas different and memorable.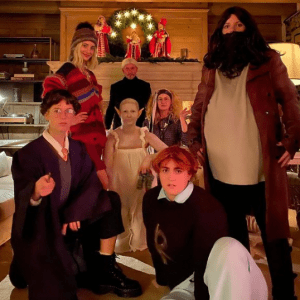 The joy this family has by simply being together shines through the posts Tim shares with his fans. The love this family has for each other lights up everything around them. And it starts on the foundation of the love Tim and Faith have for each other. These Country music icons have always made a point to put their family first. This unit is all about being consistent for their girls and each other. This family may be star-studded but they are completely real in every sense. And Tim's lyrics in his new single "Gravy" say it perfectly. "If I could hug my kids and kiss my wife, […] Everything else is gravy."
Humble and Kind
Tim and Faith have three talented and independent daughters, but the bedrock they share are parents that love and support them in all they do. The "Humble and Kind" singer had it right when he wrote, "You know there's a light that glows by the front door. Don't forget the key is under the mat." Their girls will always have a safe place to land. "Don't take for granted the love this life gives you." Tim is following his own advice and making special holiday memories this year. He dressed as Lucious Malfoy while Faith made a very convincing Trelawny. The rest of the family filled in and we got the big three: Harry, Ron, and Hermione. Then Hagrid and Dobby made excellent additions!
I hope the family capped off this Harry Potter theme night with a movie marathon. And if they did; well they did it upright! And all that is missing is Tim's meatballs and sauce. I mean you don't mess with some traditions and the family's "noodles and gravy" is definitely one of them. Tim added a post showing all the deliciousness that is the gray, and I swear he did it to make the rest of the world even more jealous.
Latest posts by Mandy Robinson
(see all)