The McGraw-Hill family is having a joyous holiday season.  To prove it, Tim McGraw is showing off how his lovely ladies are creating their own holiday fun. The concerns of this unique pandemic Christmas don't put the brakes on some dramatic play, along with having dinner, as an E! News feature confirms. The country music superstar is pleased as punch to share how so much fun can flow from family bonds from the place they call home.
Going from 'Country and Western' to Westeros with Tim McGraw and family
Tim McGraw and Faith Hill have always been adamant about family togetherness.  The royal couple of country music makes no secret about being a very real family.  Even through frequent tours, the two devoted parents balanced time to ensure that their daughters remained secure with consistency and love.
As Gracie Katherine, Maggie Elizabeth, and Audrey Caroline each grew and came into their own talents and interests, Tim McGraw and Faith Hill continued to be their daughters' staunchest allies and most boisterous cheerleaders.  Gracie, 23, sounds better than ever as a singer, surely set for Broadway.  In 2015, she sang with her dad on "Here Tonight" from his Damn Country Music album.  In turn, Tim came onstage to sing with her and her alternative rock band, Tingo.
There was another track on the album, "Country and Western" that praised the roots of Tim McGraw's genre while promising to retain its traditions and values into the future.  Faith Hill and the girls decided that a trip to the fantasy world of Westeros made a great getaway for a family dinner.   If you're going to go Game of Thrones, you gotta go all the way.  At 53, Faith was utterly fabulous as The Night King.  Gracie, Maggie, 22, and Audrey, 19, portrayed a dying Joffrey Baratheon, Arya Stark, and Sansa Stark with thespian perfection.
Dad Tim McGraw naturally took the most beloved persona of the series, Ned Stark.  The shared photos against a glimmering array of trees covered in lights can't convey all the fun of this costume ball.  It's still clear that the family had a ball at the feast.
"We had a Game of Thrones-themed dinner at home with the kiddos," Tim McGraw captions the keepsake photos.  "Merry Christmas!"   Audrey chimes in that "We killed it honestly."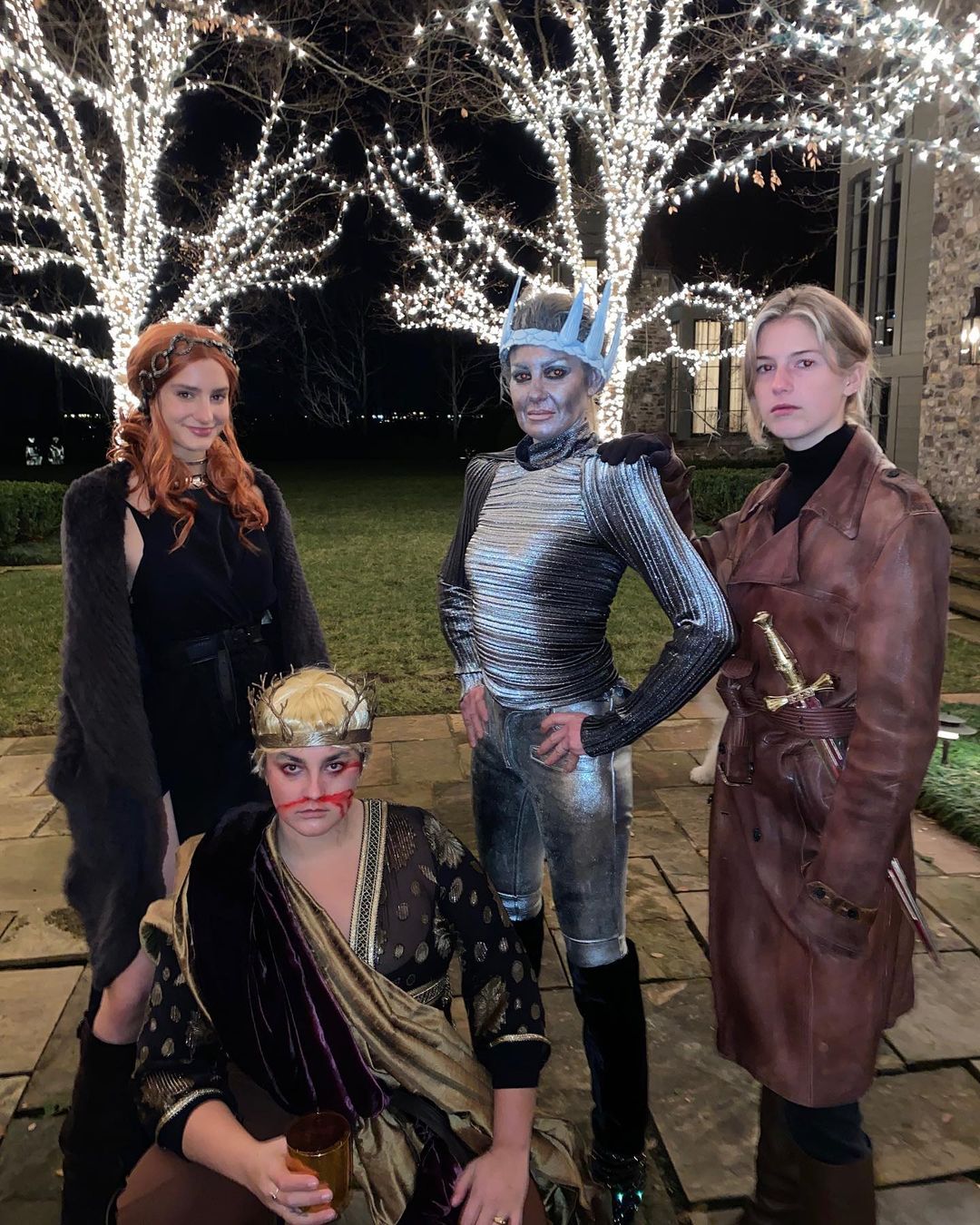 It's been a different,  but still DIY, Christmas for Tim McGraw and Faith Hill
Tim McGraw never tries to hide his devotion or emotion when it comes to his wife or his daughters.  His latest single, "Gravy," creates a montage of many precious moments of the daughters growing up together.   During his session for Oprah Winfrey's Masterclass, McGraw visibly chokes up simply talking about "having her [Faith Hill] for their mom." He also calls himself "a hack" compared to the natural, effortless control and power of the "Breathe" singer.  Tim McGraw described his wife as "Aretha Franklin, Janis Joplin, and Bridget Bardot all rolled into one."
Lots of compliments are surely coming to Faith Hill this Christmas week.  Tim McGraw teased that his stunning bride of nearly 25 years was ready to "get rid of" him before the holidays even arrived.  Fans were even worried after McGraw made his way up a ladder to the rafters of their home, where he was determined to decorate the highest point on the Christmas tree.  Since he's portraying the pivotal character of Ned Stark, it seems he's back in good standing.
Making memories matters
Tim McGraw and Faith Hill took to social media to honor their youngest daughter, Audrey, on her birthday.  "I admire you," the father gushed.  Faith Hill celebrated the girl who arrived into the world eight weeks early but soon was ready to "conquer the world."  Mom cherished the videos of Audrey giving a full performance to the Across the Universe movie.  Audrey was undaunted by the cast on her ankle.
All three lovely McGraw sisters are soaring on their own now.  Maggie had a big year, too, being vice president of the "Feed the Frontline" effort in Nashville.  Mom and dad enlisted some good friends for the cause and sang an unforgettable rendition of Alabama's "Feels So Right." No matter how old their daughters are, or the accomplishments they achieve in life, there's always room at the Christmas table at home.  Tim McGraw already has his Christmas Eve specialty on the stove.
The family's favorite meal comes from scratch, not TV
Fans have a few treats from Tim McGraw to enjoy this Christmas. In the sentiment of the season, the superstar released a throwback video of "Blue Christmas" on social media.  The spontaneous performance happened in 2018, and no one can resist an Elvis classic with a familiar Louisiana drawl.  Listeners who want to relish more recent history can pop McGraw Machine Hits 2013-2019 into their players.
Costumes are fun but hardly necessary for Tim McGraw's Christmas Eve dinner.  He crafts the meatballs and simmers the secret-ingredient sauce days ahead of serving the family meal, dubbed "noodles and gravy" by the kids.  This family loves the beauty of the hearth and keeping things homespun.  Nonetheless, this close-knit clan takes "dressing for dinner" to a whole new dimension.  At least no dragons showed up.
Latest posts by Tresa Patterson
(see all)