Despite having an amazing year on the charts, Miranda Lambert was ready to roll into 2021. The Country music diva celebrated the coming New Year with fans on social media.
Miranda's Impromptu Porch Performance
Yesterday, Miranda Lambert posts a video on Instagram and Twitter celebrating the coming New Year with her followers. In the minute-long clip, the blonde songstress wears a cute but casual floral top and denim shorts. Sitting on what appears to be an old wooden rocking chair on a cozy side porch of her home. The artist has decorates the space in a very true-to-character way, bringing the feel of an authentic, southern honkey-tonk to her own porch. Surrounded by an old, run-down carousel horse, a vintage style light up sign that reads, "Magic Porch" and some twinkle lights, Miranda set the stage for a stripped-down performance of her 2020 hit, Blue Bird 
Despite being performed in this very intimate setting, the sound quality of the clip was amazing. In the video, Miranda sings through the first verse and the chorus of the fan-beloved song.
Y'all giving this song wings was a bright spot of this year. Cheers to finally turning the page to 2021. pic.twitter.com/yhEiHJQm4W

— Miranda Lambert (@mirandalambert) December 31, 2020
Miranda Lambert Acknowledges Fan Support
In her Instagram video post from New Year's Eve, Miranda wrote, "Y'all giving this song wings was a bright spot of this year. Cheers to finally turning the page over to 2021." This short but poignant statement was both well received and symbolic. She is acknowledging that without her fans, Bluebird would not have become the monster hit it was this year. It was a subtle nod, thanking her fans for their continued support through a year that was less than great for most. It was her way of celebrating the success of her work while acknowledging that other's might not have as much to celebrate.
Miranda's followers were quick to shower her post with more love and support. Many complimented her on her beautiful, untreated vocals. Other fans congratulated her on her writing skills and the success of Bluebird.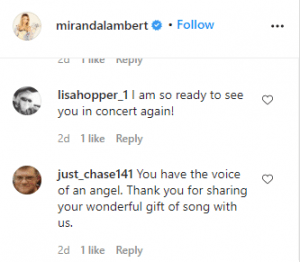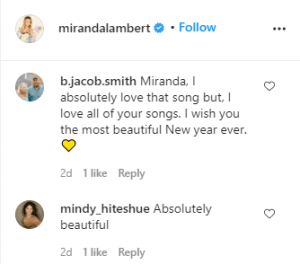 Bluebird Was a Symbolic Song for 2021
Miranda Lambert's Billboard #1 hit Bluebird was not only a perfect choice for a New Year's Eve serenade – for many it helped give people perspective on the year. 2020 was not a great experience for most and the song's uplifting lyrics really helped put a positive spin on a lot of negative situations for Miranda's fans. The song is all about taking the negative and working with it. Encouraging people to 'use what you got' to make unpleasant situations better.
The song's spunky verbiage has Miranda Lambert's vibe on it from the very first chord and keeps fans entranced to the very last.
The song's feel-good, optimistic message has ended up on all kinds of merchandise this year, showing how much fans appreciated and believed Miranda's message of Hope and commiseration.
A Bright New Year for Miranda Lambert
Despite the many restrictions and disappointments that 2020 brought in, Miranda Lamberts 2021 looks bright so far. The 37-year-old star just celebrated her second married Christmas with her husband, Brendan McLoughlin. The pair posted numerous times on social media throughout the season, sharing their love and joy with the world. The duo will celebrate their official second wedding anniversary this February as well.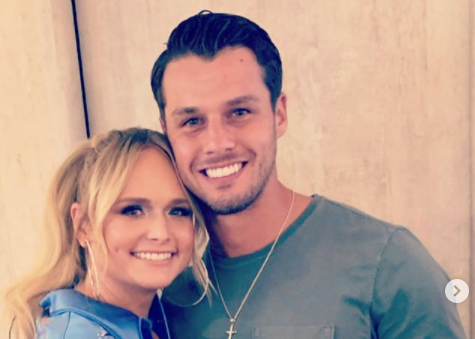 What's next for Miranda? Is there a little one coming in the near future? No, not as far as we can tell. Other than a slew of unfounded rumors and exaggerated photos – there is no evidence to suggest that Miranda is or has ever been expecting. As happy as she and Brendan appear to be – one can only assume the two will be delighted to announce that event if it ever happens.
Love getting the inside scoop on all your favorite country stars? Be sure to bookmark our homepage for new stories daily!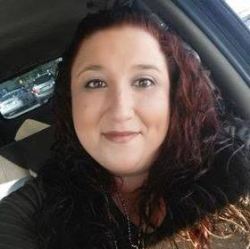 Latest posts by Nikki Desrosiers
(see all)