Miranda Lambert wants to help last-minute holiday shoppers. 2020 has been hard enough on people. And now it's time to worry about the holiday season, which is right around the corner. Of course, getting gifts this year hasn't been easy.
Online shopping is booming than ever before. But that has also led to delayed shipping times. The country singer admitted that she's a last-minute shopper as well. So, she wants to help her fans out.
And for those who did all of their shopping, Miranda also has a special treat. She shared a clip of her at-home performance of "Bluebird" for an upcoming Christmas special.
Miranda Lambert shares last-minute shopping idea
On Monday, December 21, the "Little Red Wagon" singer shared a new photo on Instagram. Miranda Lambert wore a black dress that featured sophisticated flowers on it. In her arms, she held a bouquet of flowers. The photo received over 64,000 likes.
"If you're a last-minute shopper like me, @idydllwind has gift cars!" Miranda wrote in the caption. "Head to idyllwind.com for info."
Idyllwind is Miranda's lifestyle brand. On the website, she sells accessories, apparel, boots, denim, dresses, shirts, and more. If you have a Miranda Lambert fan on your Christmas list, you'll want to purchase an e-gift card.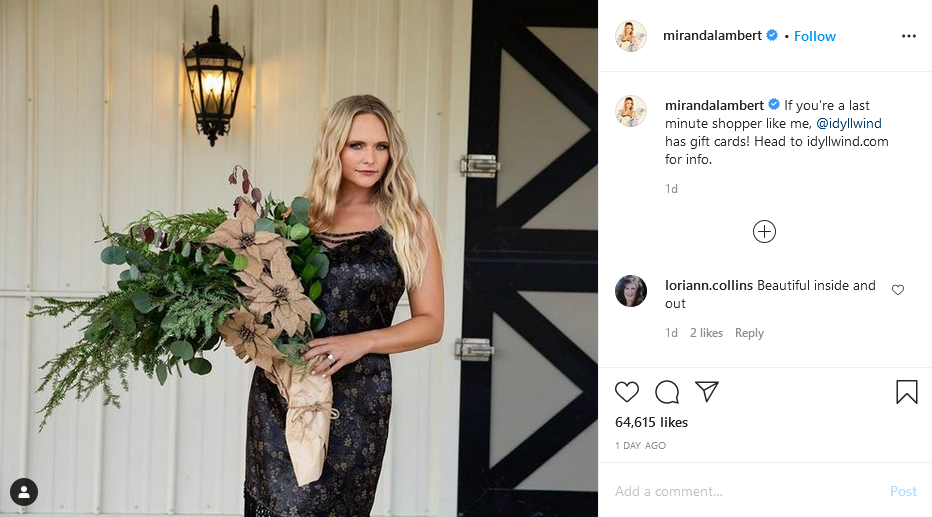 Gift cards are only available for $25.00. It's the perfect gift for those who are hard to shop for. E-gift cards are delivered by email only. It'll come with instructions for the recipient to redeem them at checkout. Thankfully, these gift cards have no processing fees.
Previously, Miranda shared her "Holiday Gift Guide," which includes Shooting Star Fringe Earrings, Cash Western Boots, Star in the Night Drop Necklace, and the Sundance Hooded Fringe Cardigan. Her holiday shopping guide is long and seems to go on forever.
Miranda has many favorites. But since this is the holiday shopping crunch, it's better to get the e-gift card. Any of those items could arrive late.
Performs acoustic version of "Bluebird" for CBS special
Miranda Lambert was one of the performers on CBS's A Home for the Holidays special on Sunday night, December 20. She performed an acoustic version of her hit song "Bluebird." Miranda even shared a clip of her performance on Instagram. The "Gunpowder & Lead" songstress performed it from what looks like her Nashville home.
The room was decked out in lights as she sat on a blue couch. Miranda wore a Western-inspired shirt as she strummed away on her guitar. Gayle King hosted the 22nd annual event. A Home for the Holidays raises awareness for children in foster homes, and this year's televised broadcast showed three families adopting their children on-air.
Are you a last-minute shopper like Miranda? Sound off below.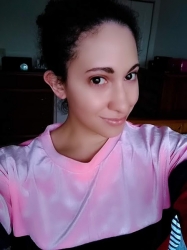 Latest posts by Chanel Adams
(see all)