As Gabby Barrett prepares to welcome her new bundle of joy at the end of January, she receives a surprise. The RIAA certified her single "I Hope" as 4x platinum. The status signifies the sale of her song four million times. Barrett was in disbelief when she received her plaque. "I just remember being young and always seeing plaques of artists that I really looked up to on the walls of different places, hoping I could have at least one of those someday."
Well, Barrett can count herself among the people she always admired. Now with multiple plaques, she said, "I'm dreaming with my eyes open as they're hanging up on my wall. Hopefully, I'll be able to collect some more in the future." Fulfilling a childhood fantasy, Gabby says is an "indescribable feeling".
Getting her start
Gabby Barret participated in Season sixteen of American Idol. She made it all the way through the competition and ended the season with a third-place finish. Gabby returned to Idol in Season seventeen and performed "I Hope" which she released independently. And after, she signed on with Warner Music Nashville the song was officially released in July 2019.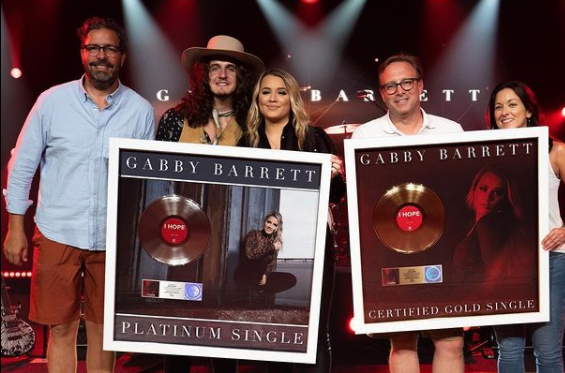 "I Hope" topped multiple country music charts and caught the attention of Charlie Puth. Puth and Barrett released a duet version of the song in April 2020. And their version reached number three on the Billboard Hot 100.
Gabby took time during 2020 to just absorb the amazing success that her single has garnered. "I'm so thankful for having so much time off this year to really let it soak in." But she has also used 2020 to really appreciate her family. American Idol didn't just give Gabby her start, she also met her husband Cade Foehner on set. The couple announced their engagement in March of 2019 and married on October 5, 2019. The pair announced they were pregnant in August of 2020 and now they are days away from delivery.
Gabby Barrett and her family
Barrett is excited to meet her baby girl. However, with the delivery on the horizon, she is very much over pregnancy. "I can't do normal things that I want to do. I get so tired so quickly". Gabby wants to do simple things but finds them nearly impossible right now. "I want to clean the house and make sure everything's so clean, but it's so hard to bend down and it's hard to roll over when you sleep."
But lucky for her, she has Cade to help out. "He's just been very nice. He rubs my feet every single night". They are counting down the days and Gabby is focused on her role as a mom. And she is already thinking of adding more kids to the mix. "I definitely want to have more than one in the future, for sure."
"I always wanted to be a mom. It was something that was always ingrained in me from a very young age. […] I just can't wait to see what she looks like. It's insane to me that we are literally right around the corner from this; that she's coming very soon."
Are you excited for Gabby Barrett and her latest major career milestone? Let us know in the comment section below. Come back to Country Music Alley for more news about your favorite Country stars.
Latest posts by Mandy Robinson
(see all)