Every fan of country music probably knows Alan Jackson. The Country Music Hall of Fame inductee has a storied career spanning over thirty years, beginning with the release of his first album Here in the Real World. Since then, Jackson has released sixteen studio albums with twenty-six songs reaching number one on the Billboard Country Airplay chart. Jackson also has enough awards to fill several bookshelves, but the country artist tends to keep a low profile. He rarely does interviews even if he has new albums to promote.
So, Taste of Country compiled a list of six little known facts about Alan Jackson for his fans. One of those facts being the reason behind Jackson's iconic cowboy hat look, which he has sported his entire career.
The Hat
Alan revealed why he always wears his cowboy hat during an interview with GQ magazine in 2018. "I tell you, I started off really when I was a teenager. I had a – and still have it – a big scar on my forehead from when I ran through a glass door when I was little. And I was always self-conscious, so when I started singing in high school it kinda bothered me."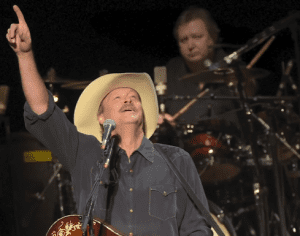 Scars will make anyone feel self-conscious and to have a prominent one on your forehead must have been difficult. The Grand Ole Opry member was candid in his interview, but insecurities like that do not go away easily even if you are a legend. "It was bigger and bolder then; I guess it's kinda worn down over the years. I first started wearing a hat when I was about 17, my old brown cowboy hat."
Other facts
The other facts in the video might be common knowledge to some, but they might be interesting for younger fans. For instance, did you know that Alan Jackson appeared on a television show called You Can Be a Star in 1985?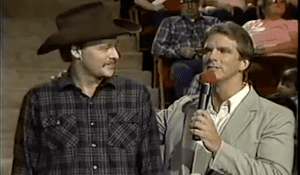 This was Jackson's first-ever television performance and he performed "He Stopped Loving Her Today" by George Jones. The show was similar to the modern American Idol. And this performance was where Keith Stegal, Jackson's long-time manager first heard him perform. But Alan's "big break" came as the result of chance or divine intervention.
Alan married his high school sweetheart Denise in December 1979. The couple moved to Nashville soon after they married so Jackson could pursue a music career. Denise worked as a flight attendant and one lucky day she was in the Atlanta airport and saw Glen Campbell. She boldly approached Campbell and asked his advice for her husband's career. Glen generously gave her his business card and told her to call him. Of course, Jackson did just that and Glen gave him a songwriting gig earning $100 a week. But the real prize was that Glen became Alan's mentor and helped shape him into the singer we know today. Campbell later helped Jackson land his first contract with Arista Records in 1989.
Another unusual fact is that Jackson had a super interesting pet as a kid, a monkey named Peanut. Apparently, Georgia didn't have exotic animal laws when Jackson was growing up.
What's next
Alan Jackson surprisingly has not released a new album in six years. But with the number of hit songs he has, fans are never bored during his concerts. Jackson has so many hit songs that he can't play all of them. So, he performs parts from several songs almost as a collaboration so everyone gets to hear at least a part of their favorites. Jackson has scheduled a few tour dates for the spring and summer with a big fall tour load this year. Fans are truly hoping that the pandemic allows these live performances to happen. And maybe with all the downtime from last year, Alan had some free time to write some overdue new music like so many of his fellow artists.
Latest posts by Mandy Robinson
(see all)