Country stars took to social media to share their reactions to the Nashville bombing. On Friday, December 25, a shocking explosion took place in the Tennessee capital. Reports are calling the incident "intentional." Many have been sharing their support for Music City. It's another tragedy amid the already difficult year for Nashville.
Some used hashtags such as #NashvilleStrong and #TennesseeTough. Those who shared their thoughts on social media include Brad Paisley, Carrie Underwood, Carly Pearce, Cassadee Pope, and Little Big Town. As country music fans know, Nashville is a huge center for the music industry, including the country music scene.
Nashville bombing draws a reaction from country artists
Per Fox News, Brad Paisley took to Instagram to share his reaction. He wrote, "Tough year for Nashville. Be safe everyone. #merrychristmas Duet with @Kevinnealon." In his post, he shared a special song for the city of Nashville.
The photos shared by the media started country singer Carly Pearce. She shared her reaction to the news.
"Sending all my love to Nashville this morning," she wrote. "These videos are absolutely terrifying. Such a horrific act, especially on Christmas morning."
Little Big Town, who lives in Nashville, took to social media to thank first responders. They commended them for their bravery and hard work.
"Merry Christmas! Thinking of our beautiful hometown we love so much," they tweeted. "We are beyond grateful to our first responders for your dedication and bravery. Our prayers and love are with all those serving our community. #NashvilleStrong"
Also, the Music City Grand Prix tweeted: "Thoughts and prayers for Nashville. We are completely devastated by the horrific explosion downtown this morning. Thankful for the first responders on the scene this Christmas morning. #prayfornashville"
Carrie Underwood thanks "brave first responders"
Carrie Underwood lives in Nashville. She wished everyone a happy holiday and credited the first responders who helped with the bombings in her Twitter message.
"Merry Christmas everyone!" she wrote. "And a huge thank you to all the brave first responders in Nashville this morning."
Merry Christmas everyone! And a huge thank you to all the brave first responders in Nashville this morning. 🙏🏻❤️

— Carrie Underwood (@carrieunderwood) December 25, 2020
The Voice winner Cassadee Pope said she could feel her house shake from the blast. She reacted to the news of the explosion on early Friday morning. In her expletive tweet, she revealed that she is "praying nobody was hurt." She added that it "seems like it was an explosion of some sort downtown."
She was just one of the many Nashville residents who reacted to the explosion on early Friday morning. The blast happened around 6:30 a.m. local time near Second Avenue and Commerce Street in downtown. Thick black smoke appeared above the skyline, which could be seen for miles. The explosion was so strong that it shook nearby neighborhoods.
Currently, there are few details regarding the blast. The investigation is ongoing. During a brief press conference on Friday morning, Metro Nashville Police spokesperson Don Aaron confirmed: "We do believe the explosion was an intentional act." He called the Nashville bombings "significant." Three people were hurt and transported to area hospitals, according to Nashville Fire spokesperson Joseph Pleasant. Thankfully, none of the victims suffered life-threatening injuries, Pleasant said.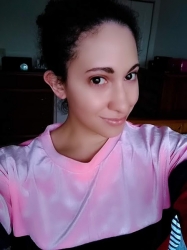 Latest posts by Chanel Adams
(see all)