Latest posts by Mandy Robinson
(see all)
Laine Hardy, touted as the potential "Champion of Country" in 2021, entertained US service members stationed overseas. He flew all the way to Al Dhafra Air Base in Abu Dhabi and played some of his better-known numbers. Apparently, the visit by the American Idol winner was well received, and he gave a  heartfelt shoutout to the armed forces.
Laine Hardy performs for US Service Members in Abu Dhabi
Recently, we reported that Laine promised his fans a "nice surprise." He's been busy working in the studio recording with producer Michael Knox and other studio musicians like Danny Rader, Tully Kennedy, and more. So, fans look forward to new music from him. Admittedly, he misses Live tours, but he still cranks up lots of fans who attend his Virtual tours. In fact, in 2020, numbers reached over two million views.
But now, some lucky people who serve in the US services saw him Live, in person. No doubt, his fan-favorite songs like "Ground I Grew Up On" and "Tiny Town" appealed to those people so far away from their own ground that they grew up on. Broadway World reminds Laine Hardy's fans that his grandpa served in the military. The outlet also reminded fans that Laine  previously performed at the "2020 virtual NYC Veterans Day Commemoration." And that family connection seemingly resonates for him.
The overseas performance moved Laine
Actually, the occasion meant that Laine traveled outside of the USA and visited a military base for the first time. Probably, that experience alone made for a memory of a lifetime. He told the US Service Members that he'll "never forget" the experience. And dedicated fans know that when Laine makes a promise, he never forgets it. So, they take him at his word. And that's why so many people adore him. Humble, genuine, and rooted in old country values, he stands apart from many pop singers.
Laine Hardy told the service members overseas that he appreciates their "sacrifice." And he felt extremely "honored" to be able to perform for them. If you follow Laine on social media, you'll know that he constantly seems surprised at the good things that come his way. He comes over as a young man who dreamed big, but when his dreams come true, he credits it all to his fans. So, people love him for that. When Laine said he felt "honored" he probably meant it from the bottom of his heart. And likely he never dreamed that one day, he might perform for the military so far away in Abu Dhabi.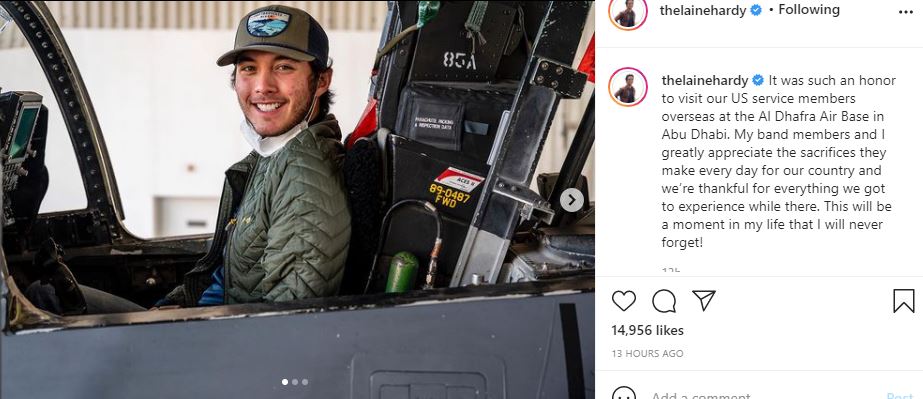 Laine seems like someone to watch in 2021. The rising Country star gains in popularity so much, that maybe one day, those US service members will boastfully tell their kids, "I saw him perform Live at Al Dhafra Air Base."