Is Trisha Yearwood going stir-crazy? She's been in quarantine since February 11th. After almost a month of social media silence, Trisha Yearwood returned in a legendary way. Did you know the singer had a guest role on a sitcom in the '90s? 
Trisha Yearwood, Garth Brooks in Quarantine
At the beginning of February, social media accounts for Trisha Yearwood and Garth Brooks sent an identical message to their respective followers. The country music couple was canceling all of their scheduled events and quarantining. The social media message said that someone on their team tested positive for COVID-19. 
A little under two weeks later, a new post went up on Trisha Yearwood's Facebook. During the quarantine, both she and Garth Brooks were getting tested regularly for COVID. Garth's tests were repeatedly negative. However, Trisha tested positive, thus prolonging their quarantine.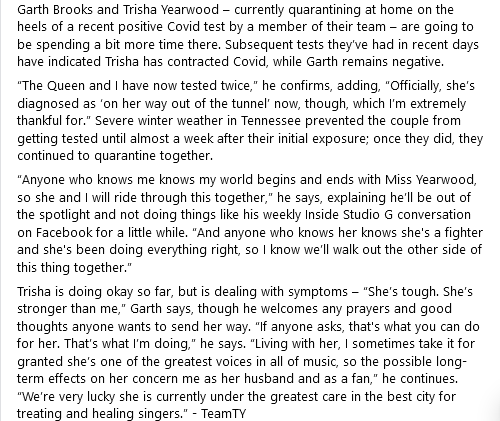 #FlashbackFriday Sitcom Role
In the 1990s, actress Tea Leoni parlayed her sitcom success into a lead role in Jurassic Park III. Her popular The Naked Truth sitcom aired for one season on ABC before moving to NBC. Tea Leoni's character was a Pulitzer-nominated photographer, leading to several high-profile guest cameos. 
Both Tom Hanks and Anna Nicole Smith guest-starred on the '90s sitcom. Trisha Yearwood broke into the country scene in 1991 with the song "She's In Love With The Boy." She later had a small role on The Naked Truth. And a fan shared a clip on Twitter. 
Trisha Yearwood broke her social media blackout by sharing the fan tweet with her nearly 500K Twitter followers. She wrote that she had been searching for the clip "for years." Check it out below. 
OMG, I've been looking for this clip for years! @TeaLeoni is SO freaking cool. She's a great actor! I'm a…chick singer. 🙂 xoxo https://t.co/pm9H8LbC0G

— Trisha Yearwood (@trishayearwood) March 5, 2021
The country singer may be getting bored in quarantine. She followed up her tweet about The Naked Truth by resharing another fan throwback concert clip. Trisha jokes that she could have auditioned for Pirates of the Caribbean with the outfit she was wearing. 
I love it! I don't remember being that sassy in '93 but I guess I was…and that outfit…I coulda been in Pirates of the Caribbean! https://t.co/e13ISwuc37

— Trisha Yearwood (@trishayearwood) March 6, 2021
Garth Brooks Postpones Carolina Tour Date Again
While Trisha Yearwood is killing time by interacting with fans on social media, Garth Brooks had to make a tough decision. Fox Carolina reports that a concert scheduled for April 2021 has been pushed back until September. This is the fourth time the concert set for Charlotte, North Carolina, has been rescheduled. 
During the pandemic, Garth and Trisha have been holding virtual Facebook concerts from his Studio G. However, the concerts, and Trisha's Coffee Talk, are currently on pause while Trisha recovers from COVID. 
Her first post on Twitter in almost a month received many well-wishes from fans. 
Hopefully, Trisha Yearwood is on the road to recovery. 
Follow us on Twitter for more country music news.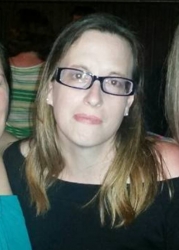 Latest posts by Jennifer Havener
(see all)