Latest posts by Mandy Robinson
(see all)
On the music front, Laine Hardy who won Season 17 of American Idol, does really well in 2021. Additionally, he finally managed to carry out a live tour, something that went on the backburner for way too long. Still young, his fans come from all age brackets and they never seem to tire when he shares photos taken before he became famous. Country music fans like that because he always keeps his fans first and foremost in his life.
Laine Hardy rides high at the moment
We reported that just ahead of his live tour, the rising Country music star dropped his new song, "Memorize You." It also came just a day after Louisiana nominated him as the state's official ambassador. At the time the new song didn't drop on YouTube with a video, however that soon became updated. Back then, fans went crazy about the new number. It seemed like a foot-stomping, laid-back, and romantic song all mixed up in a brilliant way. Well, since the video emerged, he latched on tight in the top-ranking music videos.
According to Taste of Country this weekend, Laine Hardy completed another run at the top of Taste of Country's countdown of the most popular videos in country music this past week with his video for 'Memorize You." However, with tough competition, if fans want their favorite Country music star to stay at the top, they must vote for them. Clearly, Laine's fans faithfully do that for him.
Throwback photo very cute
Cute isn't really a word that applies to Laine Hardy these days. He grew some facial hair, lost weight, and fixed his teeth. Cute certainly described him back in Season 16 of American Idol. Sent home, his fans felt bitterly disappointed. However, he came back and won his rightful place as a rising star. Nowadays, fans think he's extremely good-looking and way delicious. So, when they saw his throwback photo this week, they agreed that he certainly rocks his own style these days
In his caption, Laine Hardy said, "Heard bucket hats are back in style #TBT." Well, everyone loves a throwback photo, even the most grizzled Country music lover. So, a lot of comments went in. Here are a few of those comments:
Ok I want to see you wear one… you could make anything look good.

Dang it! Now I need a bucket hat ❤️.

😂😂😂 are you petting a fish???

This baby has grown to be muy simpatico.

Be careful…looking at this too long can cause your heart to be stolen."
What are your thoughts on baby Laine in his bucket hat? Do agree that he'd still look good even if he wore one on his live tour? Sound off your thoughts in the comments below.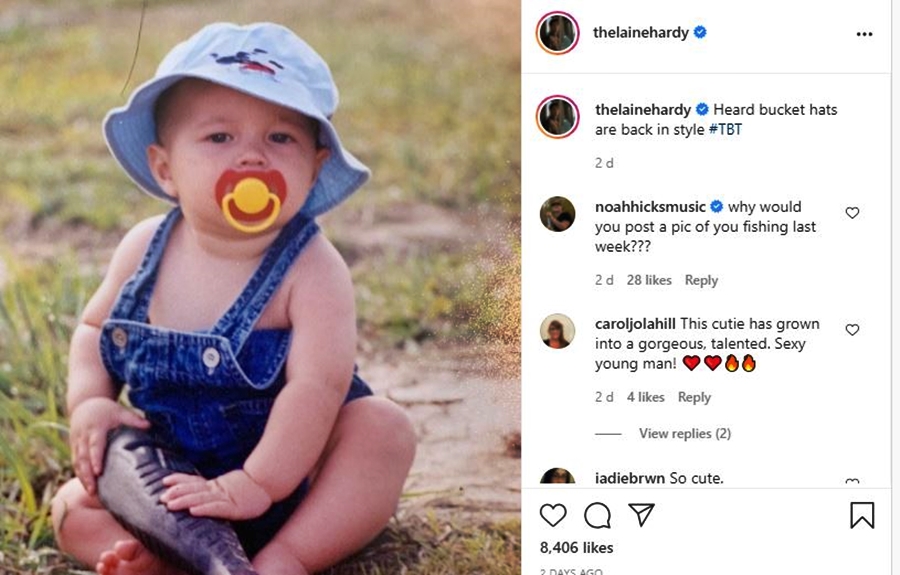 Remember to check back with us often for more news about rising Country star, Laine Hardy