Blake Shelton and Gwen Stefani celebrate a huge day with their fans. Gwen takes to her Instagram to share the celebration with fans. Keep reading to find out more.
Blake Shelton and Gwen Stefani celebrate a huge day with fans
Gwen Stefani takes to her Instagram to celebrate a major milestone with her fans. The No Doubt frontwoman celebrates one year since Blake Shelton popped the question. In the video, she is giddy and waving her hand around. All the while, Blake Shelton is dancing around in the background. Then, he comes up to Gwen and kisses her on the cheek. The pair is smiling from ear to ear.
In the caption, Gwen writes, "one year ago today?! October 17th 2020 we got engaged! @blakeshelton I love you!" She also uses hashtags for "how," "backtothefuture," and "slowdown."
In the comment section, fans express so much positivity. They celebrate along with the couple. Many of them also can't believe that it's been a year since Blake Shelton and Gwen Stefani got engaged.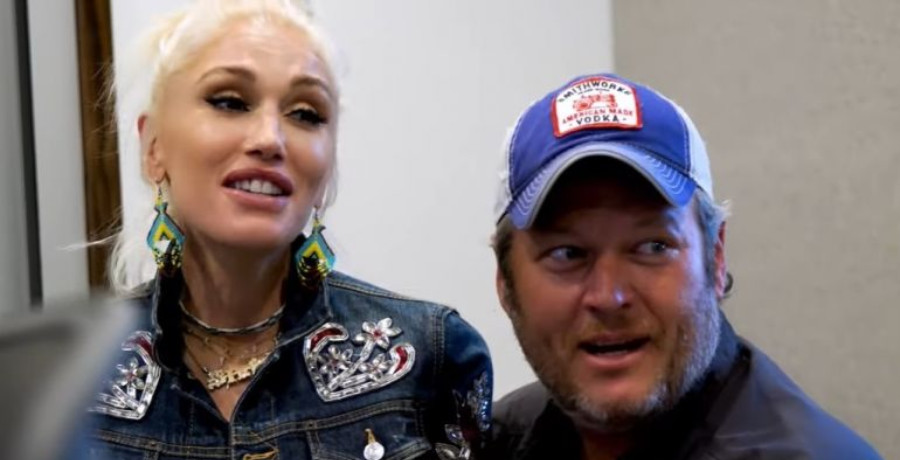 The couple met on The Voice in 2014. Shortly after, in 2015, they started dating. They likely bonded over going through similar experiences. Blake Shelton was going through a divorce with fellow country singer, Miranda Lambert. Gwen Stefani was getting a divorce from Gavin Rossdale.
How the couple started
People reports on Gwen's thoughts on the situation according to an interview with Howard Stern. When Blake announced his divorce from Miranda, Gwen thought he was outing her situation.
I was in shock, because I felt like he was exposing me. I just couldn't even wrap my head around it. I didn't want anyone to know what was going on with me… I had this huge weight on me and nobody by my parents and obviously everybody involved knew."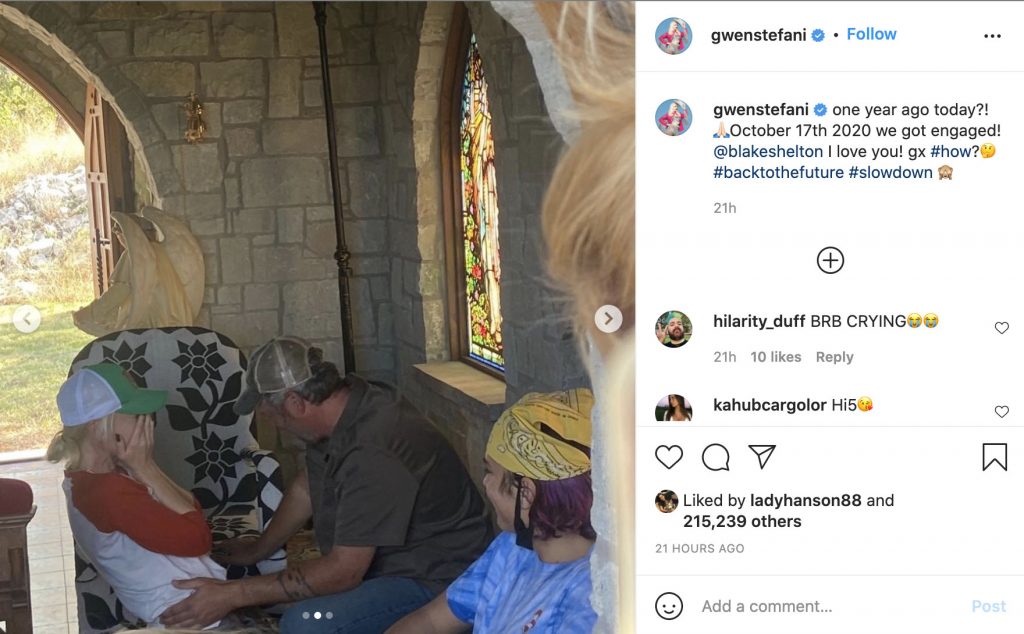 Gwen explains how she'd never seen him so upset and told him, "I gotta talk to you."
Ultimately, the "Don't Speak" singer shares that it was "unbelievable that God would put us in a position to have each other at that moment, in the same exact moment. It was during this conversation that she says she "wasn't trying to start a relationship." Luckily, that all changed.
Are happy that Blake Shelton and Gwen Stefani are celebrating this relationship milestone? Share your thoughts with us in the comment section below. Make sure to come back to Country Music Alley for more news about your favorite country stars.