Latest posts by Mandy Robinson
(see all)
Happy Birthday, Miranda Lambert! The rebel princess of country music is turning 38-years-old today and will be spending it reuniting with friends at the 2021 CMA Awards. The singer says that she can't wait to enjoy her evening amongst her fellow country stars. Miranda also warns fans that they are in for some fun surprises during the show. Read on to get the details on what Miranda might be up to this evening.
Another Big Year For Miranda Lambert
Since she released her first album back in 2001, this country diva has been blazing through the charts. This year was no exception. There haven't been many years that Lambert hasn't been nominated for at least one award. That's if she's not clearing the board and taking them all.
To date, this vocal powerhouse has taken home 14 CMA awards, 35 ACM Awards and three Grammy awards. Miranda was also named the RIAA artist of the year after the skyrocketing success of her Wildcard album.
Tonight, the singer will attend the 55th annual CMA award ceremony. Miranda is nominated for both Entertainer of the Year and Female Vocalist of the Year. Additionally, her hit summer collab with Elle King, Drunk (And I Don't Wanna Go Home) has also earned the pair a nom for Musical Event of the Year as well.
2021 has been an amazing year for Miranda. So, while there are plenty of worthy contenders in her categories, fans don't expect that she will be leaving without at least one award under her arm.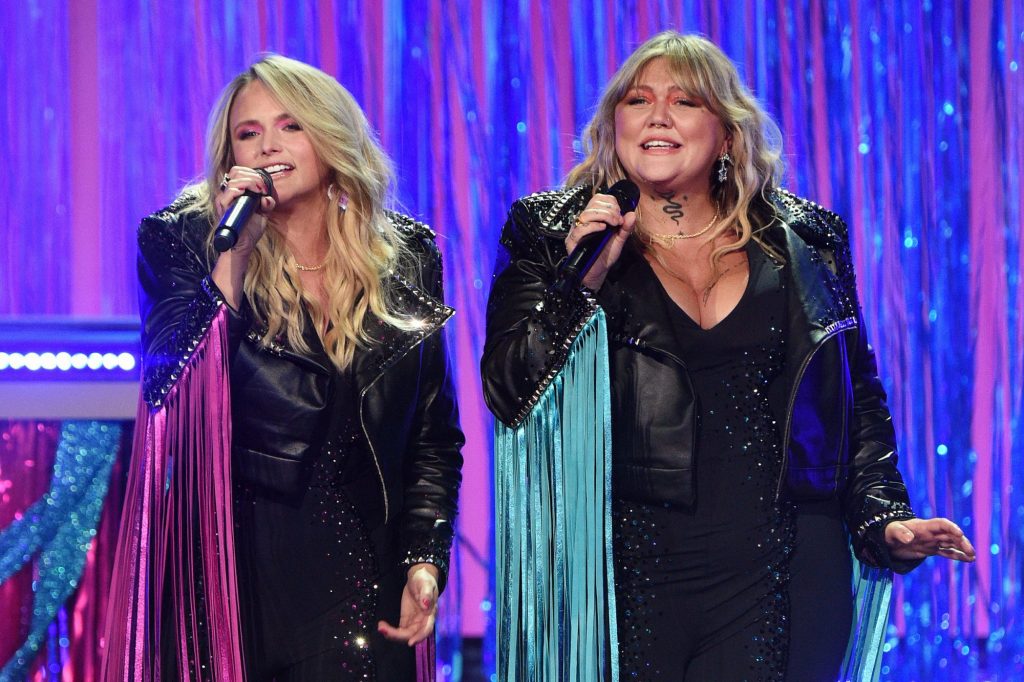 Miranda Is Excited To See The Whole Show
It's been a long time since Miranda did not have some sort of role in the CMA awards. This year, on her birthday, Miranda gets to open the show, and she says that fans are definitely in for a big surprise.
The celeb has not released information about what song(s) she might perform. Many fans suspect that as it's currently nominated for it's own award, Drunk (And I Don't Wanna Go Home) might be on the table. Unfortunately, according to Taste of Country, Elle King is not listed on tonight's list of talent. So, while it appears that she is not performing – that very well may be intentional if Miranda has a Wildcard up her sleeve (nod, wink-wink… see what we did there?)
Despite having teased some surprises for her fans, Lambert says she is super excited to be opening the show. Performing early means that she is done at 7:05 pm. The singer says at that time she will take her seat and get to fully enjoy the rest of the show from where it's meant to be seen.
THEN ➡️ NOW of #CMAawards Entertainer of the Year nominee, @MirandaLambert 🌟 What is your favorite Miranda Lambert moment? Tell us below! pic.twitter.com/HPwwE2yfm2

— CMA Country Music (@CountryMusic) November 2, 2021
Living Out Her Latest Hit
Miranda isn't sure if she's going to be able to keep it classy this year. For the first time, she and Elle King can actually have a drink together and celebrate the night. Back when the song was initially recorded, King was pregnant with her son, Levi, who was born in September.
A few months postpartum, the iconic vocalist is ready to party hard with her friend in celebration of her birthday. Miranda told reporters that "it's the first time we'll get to live out our song together so I am very excited about that."
Alternatively, Elle was also said to be hyped about throwing back a few with her favorite gal-pal, Miranda."I just told someone they're going to have to carry me out tomorrow," King revealed in an interview with Taste of Country, "I think everyone is just going to let their hair down and just get fruit-faced, you know?"
Are you ready to see what many surprises Miranda has in store for fans on her Birthday? Tell us in the comments!