Country music fans listen up: There's a new series coming to Netflix called Country-Ish aimed to delight and offer some heart and soul on the smallscreen.
Meet Coffey, the country music artist who left his native Texas with his wife and family to find fame and fortune in Los Angeles.
The twist?
His wife is a hip-hop dancer who has worked with Snoop Dogg and Britney Spears.  She's White. He's Black. Their three kids are adorable and the biggest obstacle they now face is Criscilla's health. Mama has cancer and is fighting back.
What is Country-Ish?
Country artist Coffey Anderson and his wife, hip-hop dancer Criscilla, are juggling family life, career goals and tests of their faith in this reality series for Netflix.
A Texan by birth, Anderson and his hip-hop dancer wife Criscilla are doing what young parents do, they are raising their children and navigating a big move from Texas to Los Angeles.
It is a country vs. city perspective of life and parenting.  Criscilla's crowd is the city folk while Coffey is more laid back and pure country.
They've amassed a large social following with videos reaching more than 50 million people who have taken to their story and family, and their unique journey to love.
Netflix says:
Perfectly relatable—and at the same time filled with one-of-a-kind humor and heart – each half house episode highlights their unique personalities as they navigate everyday life in a far-from-the-country locale – Los Angeles.
The series follows the life of country singer Coffey Anderson. Anderson grew up in the small town of Bangs, Texas where his dad worked at the local jail and his mother was a junior high English teacher.
He went to college and borrowed a guitar, learning chords in his dorm room and his singing was so good that it would attract his fellow college students to come and listen.
Coffey tried out locally in clubs and his luck provided him an opportunity: He got to sing as the local opening slot for a band that came to town, Coffey was set from that point on as he got notice, yet record labels, felt he wasn't ready to be signed,
Undeterred, Coffey created a channel and started his own career. Coffey used his music, comedy, and his personality to get his Youtube channel to over 100,000 subscribers.
An entrepreneur, he produced his own albums, booking his own shows, and editing his videos in his garage.
A testament to believing in yourself and working hard, Coffey's Youtube and Facebook combined has over 500,000,000 views. Coffey, Southern Man, standing at 6'5, currently, Coffey has sold over 500,000 iTunes downloads (without a record label), has over 107,000 YouTube subscribers, over 520,000 Facebook likes, over 31,000 Twitter followers and over 57,000 Instagram followers.
Coffey pays it all forward too and is working with Keegans Promise, and the Military Warriors Support Foundation based in San Antonio, Texas in order to help raise funds to award mortgage free homes to wounded war heroes.
He has also partnered with Leer Vineyards out of Byron, California to become the face of Heroic Red Wine, which is a red wine that gives a portion of every bottle sold to the MWSF to support the awarding of these mortgage free homes.
Coffey's life-size stand up figure can now be found in Wal-Mart Supercenters across the country, alongside the Heroic Red wine.
Needless to say he is constantly touring on stage, performing at big concerts like Rodeo Houston, meeting the President at the White House, singing live on the Snoop & Martha cooking show, but still doing county fairs, private events, festivals, and faith-based shows.
Check him and his family out right here on Country Music Alley in this emotional preview from Netflix:
Country-Ish will premiere on Netflix on September 25, 2020.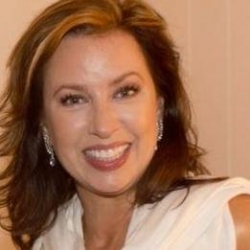 Latest posts by April Neale
(see all)