Dolly Parton for Christmas? We will take two servings, please.  On CBS, Dolly will debut her anticipated Christmas special. And for fans who want the perfect Dolly Parton present for a loved one?  Time Life has released the amazing compilation that covers her entire career to date and it's stunning.
Parton has come a long way from the Smoky Mountains of Tennessee, and she has reached the stars in last 50 years singing and laughing her way into her role as the most beloved country singer the word over. Parton is the most honored and revered female country singer-songwriter of all time.
Christmas is Dolly Parton's favorite time of year, and her mission is to spread joy and holiday cheer at the end of this very challenging 2020.
We know her name, we love her songs, and CBS' event Holly Dolly Christmas special comes on December 6.  For fans who want more, Dolly: The Ultimate Collection – Deluxe Edition 19-DVD Set is available now to order for the perfect holiday present.
About the Holly Dolly Christmas Special
The Christmas special will feature Parton telling stories and performing songs from her recently-released album A Holly Dolly Christmas.
Performing from an intimate set, Dolly brings emotionally resonant faith-filled hymns and light-hearted holiday classics to viewers, sharing personal Christmas stories and recollections of the season, with songs from her new holiday album A Holly Dolly Christmas.
"I am so proud to be a part of the CBS family this holiday season with my new Christmas special," said Dolly Parton in a press statement sent to Country Music Alley.
A Holly Dolly Christmas is produced by Sandollar Productions and NOZ Entertainment, and executive produced by Parton and Danny Nozell.
"When Dolly Parton calls and tells you she wants to do a Christmas show, you don't hesitate," said Jack Sussman, Executive Vice President, Specials, Music & Live Events/Alternative & Reality for CBS in the press release. "A special with the multi-Grammy Award-winning, prolific songwriting, epic live performer of all time? She had us at hello. There's only one Dolly Parton, and we are so excited to be bringing her to viewers this holiday season."
About Dolly Parton's Time Life must-have release
Fans who need more Dolly can revel in the beautifully packaged Time Life DVD collection of Parton's career. Loaded with video highlights from Dolly's amazing career in one incredible collection include early appearances in the 1960s to the 1980s.
Included are all her concerts, interviews, television appearances, blockbuster collaborations with her closest pals. Included are:
You get 22 star-studded episodes of Dolly's variety shows from the '70s & '80s with guest appearances by Oprah Winfrey, Kenny Rogers, Emmylou Harris, Linda Ronstadt, Willie Nelson, Freddy Fender, Burt Reynolds, Miss Piggy, Merle Haggard, Glen Campbell, Alabama, Smokey Robinson, The Temptations, Tammy Wynette, Loretta Lynn, and more.
Plus seven episodes of The Porter Wagoner Show, where Dolly got her start in Nashville.
A special Christmas disc featuring A Down Home Country Christmas with Mac Davis and Burl Ives, and Bob Hope's Jolly Christmas Show
and Dolly's spectacular Live and Well concert from 2002.
And Dolly's Live from London concert from 2009 plus bonus features.
Rare TV appearances of Dolly throughout her career from The Tonight Show Starring Johnny Carson, The Oprah Winfrey Show, and Crook & Chase.
The entire Song by Song: Dolly Parton series, highlighting Dolly's most iconic songs and how they came to be
Dolly's University of Tennessee Commencement Address and Imagination Library's 100 Millionth Book: The Library of Congress Dedication Ceremony.
Classic duets with Dolly and Porter Wagoner taped live at the Grand Ole Opry.
Unforgettable Dolly Parton performances from the CMA Awards in the '70s
New bonus features created just for the Time Life collection featuring Dolly Parton reminiscing about memorable moments from throughout her career.
Exclusive, complete, and never-before-seen interviews with Brandi Carlile, Miley Cyrus, Mac Davis, Vince Gill, Miranda Lambert, Brad Paisley, Kellie Pickler, Kenny Rogers, Marty Stuart, Lily Tomlin, Carrie Underwood and a full interview with the superstar herself!
Plus a bonus DVD with the complete BBC documentary Dolly Parton: Here I Am.
Finishing it off you also receive an Exclusive Collector's Book filled with photos, Dolly in her own words, and loving tributes from her famous friends.  All of these things come in a beautiful Collector's Box.
Dolly Parton's achievements
She has 44 career Top 10 country albums, a record for any artist, and 110 career-charted singles over the past 40 years. Dolly has earned more awards than just about anyone. Achieving 25 RIAA-certified gold, platinum, and multi-platinum awards, she has had 26 songs reach #1 on the Billboard country charts, a record for a female artist.
Recently, Parton reached #1 on the Billboard Christian Airplay Chart for the first time for her duet with Grammy Award-winning Zach Williams of "There Was Jesus," as well received her first Dove Award for short form video for her collaboration with for King & Country on the song "God Only Knows."
Parton is the first artist to have topped the Billboard's Adult Contemporary, Christian AC Songs, Hot Country Songs, Christian Airplay, Country Airplay and Dance/Mix Show Airplay radio charts.
Parton was the first country artist to be recognized as Grammy MusiCares Person of the Year given out by NARAS. In 1999, Parton was inducted as a member of the coveted Country Music Hall of Fame.
In 2014 the RIAA recognized her impact on recorded music with a plaque commemorating more than 100 million units sold worldwide. She has won ten Grammy Awards and earned 49 nominations, including the Lifetime Achievement Award and a 2020 win with for KING & COUNTRY for their collaboration on "God Only Knows."
She has 10 Country Music Association Awards, including Entertainer of the Year; five Academy of Country Music Awards, also including a nod for Entertainer of the Year; four People's Choice Awards; and three American Music Awards.
Plus, Parton has donated over 147 million books to children around the world with her Imagination Library.
A Holly Dolly Christmas airs Sunday (8:30-9:30 PM, ET/8:00-9:00 PM, PT) on the CBS Television Network and available to stream live and on demand on CBS All Access.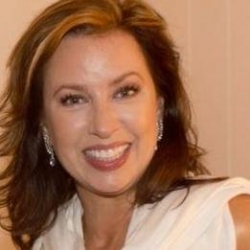 Latest posts by April Neale
(see all)