Dolly Parton is getting into the holiday spirit. And she wants to help her fellow Americans do the same. As everyone knows, it's been a difficult year. More Americans are feeling lonelier than ever with the coronavirus pandemic.
She wrote a love letter to Santa Claus
The legendary country singer knows this is a big job to ask of him, but she's hoping for a great Christmas. And not just for herself but everyone around the world. In the December 2020 issue of Good Housekeeping, for the magazine's "Love Letters" series, she wrote a letter to Santa. Dolly Parton is hoping that Santa and God can help correct the world right now.
She's hoping for world peace, love, hope, and joy. And of course, a COVID-19 vaccine.
"Santa, please bring joy to those who have lost the ability to laugh and enjoy life because of this critical time," Dolly wrote. "And Santa, bring hope for a better and brighter tomorrow, hope for the poor and the downtrodden, for those who have given up all hope."
Dolly also had wise advice for the jolly old St. Nick. She told him to stay safe and to "wear your mask, because you're going to be going in and out of a lot of houses." Her latest Christmas album, A Holly Dolly Christmas, includes duets with her younger brother Randy, Billy Race Cyrus, Jimmy Fallon, Miley Cyrus, and Willie Nelson. It also features the track "Cuddle Up, Cozy Down Christmas" with Michael Buble.
Dolly Parton wants to bring "a little light into the darkness" this Christmas
The legendary singer-songwriter knows how difficult the holidays can be. But Dolly Parton wants to bring back those warm and fuzzy holiday feelings. It's desperately needed in a year that's filled with uncertainty. In an interview with The Tennessean, Dolly admits that it's been difficult to write Christmas songs.
"You would be surprised," she said. "In fact, I have been surprised, though when I try to write Christmas music for everybody else. Because, of course, everybody wants to write the next Christmas classic. But it seems like everything's been written about Christmas."
But she hasn't lost hope. That's how Dolly came up with her new holiday record. She wants her fans to enjoy the soothing and silly side of the season. Since its debut, it landed the No. 1 spot on Billboard's holiday and country album charts.
Her holiday movie will also cheer you up
If you want more Dolly Parton, you should watch Christmas on The Square on Netflix. According to NPR, this "old-school music" with plenty of "splashy musical numbers of original Dolly Parton songs." Debbie Allen helped choreograph the show.
"I think reasonable people can agree Dolly Parton is a fundamental force for good in the universe," Glen Weldon says in an interview with Linda Homes. "She's playing an angel here, so right away redundant."
What are your thoughts on Dolly Parton's letter to Santa? Have you ever listened to her Christmas music or watched any of her holiday movies? Sound off below.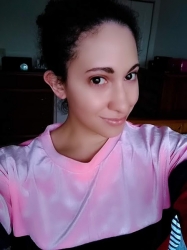 Latest posts by Chanel Adams
(see all)