Country music legend, Reba McEntire, joins newcomer Cody Johnson on his latest single 'Dear Rodeo.'
What we know about Reba McEntire and Cody Johnson's collaboration.
Recently, Reba McEntire shares an eerie trailer for the single, "Dear Rodeo" on her Instagram page. While the song's been out for a while. Cody Johnson's YouTube page has a live performance from Houston that from two years ago. However, Reba and Cody Johnson just released the music video recently. Attesting to the eery feeling is the fact that the music video is inside an empty Tennessee Mill Coliseum in Murfreesboro, Tennesee.
As a homage to their past, Reba McEntire and Cody Johnson both share flashback footage of their time in the rodeo circuit. Fans may be more apt to know that Cody Johnson was a bull rider. However, they may not remember Reba was a barrel racer. The opening lines of the song echo almost like a bittersweet calling to times past.
What does "Dear Rodeo" mean to Cody Johnson and Reba McEntire?
The harmonies of Reba McEntire and Cody Johnson is enough to send a chill down your spine. At the end of the video, Reba shares an eye-opening message about her life. "It's kind of like rodeo released me." If that isn't emotion-evoking enough, she elaborates. "It said, 'Come on. You go do what you're supposed to be doing over here," she says seemingly referencing her successful decades-long music career.
Additionally, Cody Johnson chimes in at the end of the music video with what the rodeo means to him. He recollects the first rodeo he went to. Ironically, it was in the Tennessee Mill Coliseum. Johnson goes on to share, "Looking back now, I think the bull was just a representation of something I was looking for. I didn't know then that was going to lead me to the things I have done now."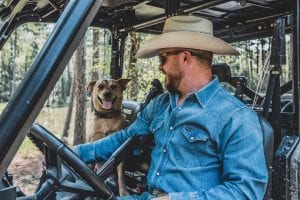 How does Reba end up on the track?
Lately, it seems the stories of the birth of a song collaboration entails one artist reaching out to the artist they'd like to work with. However, that's not quite the case when it comes to "Dear Rodeo." According to PopCulture.com, this pairing came about by way of Cody Johnson's record label. However, Johnson seems more than on board with the pairing. He raves about Reba and how gracious and professional she is. According to Johnson, she said, "Yeah, this song really speaks to me, where I've come from." Reba even goes on to say, "I feel like this is my song." Johnson points out that when you have authenticity "it really resonates with people."
It seems that "Dear Rodeo" is really resonating with fans. From the looks of Cody Johnson's Instagram page, they've started a #DearRodeoStories hashtag. With this hashtag, fans can share how the rodeo impacts them. It is inspiring to see all of the motivational stories and the positive responses they receive in the comments section.