Luke Bryan and his wife, Caroline Bryan take to social media to share sweet messages on their 14th wedding anniversary.
Luke Bryan shares throwback photo for wedding anniversary
Throughout the years, Luke Bryan fans have come to adore his relationship with Caroline. The duo routinely shares shenanigans on YouTube and Instagram. Short and sweet, Luke captions his throwback photo with, "Happy 14th anniversary my love." He goes on to write, "What a ride it has been. I love you so much." This next part is bound to put a smile on your face if you read it in Luke's voice. "We be looking young in this one."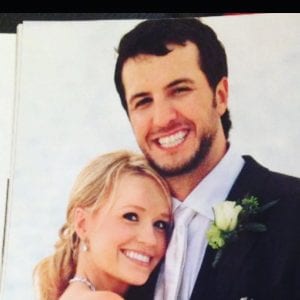 Caroline's message to her husband on their anniversary.
Heartwarmingly, Caroline's Instagram post seems to embody who they are as a couple. She shares several photos of the couple throughout the years. Some favorite photos are Luke making a kissy face while Caroline strangles him. In another, the couple cheeses for the camera with food stuck on their teeth. This may be one of the reasons why so many fans find the couple to be so relatable.
Caroline's caption seems to capture the essence of who they are as a couple. She uses a familiar quote to define what marriage means to her. "Marriage… being with the one person you get to annoy for the rest of your life." She also gives Luke props. "Luke, you are one brave man!"
Luke Bryan's Wife, Caroline, Sports New Accessory After Injury
How it all started
It's hard to think that there could have been a time when Luke and Caroline Bryan didn't become a thing. However, according to a 2018 interview with People, Luke and Caroline were on and off again while dating. Heartbreakingly, Luke recounts their last break up before they got married. He explains that they were apart for five and a half years. However, Luke looks at it as a blessing. "Because I went off to Nashville, got all of this going. She finished college. She went and actually had a career."
Ultimately, it all works out for the best for the Bryans since Luke didn't make much in the beginning. "When we got married, her career supported me when I was making about $10,000 a year." It seems that Luke knows how to show his gratitude, because, on their tenth anniversary, he upgraded her engagement ring."
And just going to show how relatable this couple is, Luke Bryan shares some relationship advice with fans. Albeit cliché, he says, "but just don't go to bed mad at each other." However, he takes into account that sometimes couples do go to bed mad at each other. He advises "don't let it snowball." "Me and Caroline get at each other as much as anybody, but we try not to let it drag out or bury our problems.
Happy Anniversary, Luke and Caroline Bryan! Do you have any marriage advice you'd like to share with others? We'd love to read about your ideas in the comment section below. Come back to Country Music Alley for more news about your favorite country artists.