Luke Bryan and his wife, Caroline "Lina" Bryan, have made a name for themselves as pranksters. However, it doesn't seem that a prank is the cause of this injury. Unfortunately, Popculture reports that Lina Bryan injured herself. Surely this isn't the first time, nor will it be the last.
How did Carolina "Lina" Bryan acquire this injury?
Tuesday, Lina Bryan takes to Instagram to share an update. In the photo, she's seen holding the family dog, Boss. A couple of other things are noticeable about the photo. Boss, who appears to be a handsome black lab, is donning a cone. Additionally, Lina sports an orthopedic boot.
Luckily, both members of the Bryan brood seem to be in good spirits. Lina Bryan tags the location of the photo as "We Good." Further highlighting her great sense of humor, she captions the photo, "Boot & Cone. We both needed the infirmary today… gotta be tough when you're stupid!" Coincidently, Popculture notes that a previous version of Lina's Instagram bio claims the latter part of her caption as the Bryan family motto.
Of course, fans express their concern for the duo. the beautiful wife of Luke Bryan goes on to explain how she and the dog acquired their injuries. She explains the Boss had an unfortunate encounter with a cat. However, she doesn't go into much detail about how she injured herself. She responds in the photos comments with, "Boss got into a fight with a cat, I got into a fight with myself. We both lost!"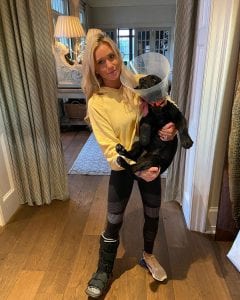 Other leg injuries from this year
Notably, this isn't the first leg injury. Luke Bryan's wife has suffered this year. While it may be funny to think about, Lina was attacked by the family's turkey, Al, in June. At the time of the injury, Lina shares the details on her Instagram stories, according to Taste of Country. She notes that the turkey bite required a tetanus shot, and she had to walk with a cane.
In addition to the tetanus shot, Lina Bryan's turkey leg injury required antibiotics. Later, Luke Bryan shares his thoughts on Lina's run-in with Al. "Al's options were very limited," The American Idol judge shares. He goes on to say that Al is "lucky he got Caroline's option because I had my options." Rightfully so, Luke was concerned since the injury also required antibiotics. He remarks, "That's something stupid enough to kill you, bacteria from a damn turkey leg."
Update on Al the Turkey
According to Luke Bryan, Al was relocated. Originally, he resided at Brett's Barn. Notably, Luke and Lina Bryan created Brett's Barn in 2017. Sadly, the barn is in honor of Caroline's niece, Sadie Brett Boyer. Heartbreakingly, Sadie Brett passed away at seven-months-old. Se was diagnosed prenatally with Down syndrome and a congenital heart defect.
As for Al, now he lives on the Bryans' other farm. Apparently, around the time of Al attacking Luke Bryan's wife, other turkeys started picking a fight with him. So, Al was becoming more aggressive. Luke says, "Yeah, he's still in the family, but he's not gonna be around my family."
Luckily it seems that Boss and Luke Bryan's wife, Lina, are both on the mend from their injuries. Hopefully, there won't be more injuries in the future. Stay tuned to Country Music Alley for more news about your favorite Country music stars.