Jessie James Decker is speaking out and defending letting her husband take a naked photo of her. People shared what the country singer and reality star had to say about it all. It was all just something that Jessie was doing for fun.
Jessie James Decker shares photo
Jessie James Decker was recently just enjoying her time in the tub when her husband came in and she let him take a pic. This all happened afters she called him into the room. What was a small thing, now has fans upset. Jessie is now having to defend herself against them. Jessie even posted the pic with the caption, "Hey babe, come to the bath tub. I'm nekkid and wanna show u somethin. People frequently ask how we keep the spark and spice alive. This is it right here folks 😂." The crazy thing is in the picture you can't see her body at all. Instead, she has covered herself with bubbles and is just having a bit of fun. You can see the photo she shared below.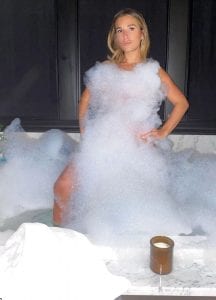 Jessie has to defend the picture
Well, Jessie James Decker doesn't see the problem at all with what she did. She was just having a fun time. Jessie is now having to defend herself since she posted the picture. She was talking back and forth to a few fans in the comments section. One comment from Jessie said, "His words were, 'you're ridiculous' and he took a picture laughing." One person told her TMI and to that Jessie James Decker responded "I can't imagine what's on your computer history. hopefully nothing as risqué and repulsive as my bubble bath gown." It is great to see her speaking up for herself.
Jessie looks amazing and this picture in the bathroom doesn't even show much of her body. Regardless, someone is always going to have a problem with the way people do things. She has had to shut down people on social media before. Nobody really holds back on social media since they can hide behind the keyboard. One person didn't like the way Jessie was having her son's birthday. To them, she said, "I understand your concern. We've been very careful. This small group of children celebrating Bubby are already in the same class at school so we are around each other all the time already. ❤️❤️❤️.
Do you think that what Jessie James Decker did was fine? Share your thoughts in the comments below.
Latest posts by Mandy Robinson
(see all)