Country music icon, Carrie Underwood gives a fashion tip about comfortable pants. Also, fans freak out about her closet (again).
Carrie Underwood raves about her pants.
Carrie Underwood takes to Instagram to promote a new clothing item from her athleisure line Calia by Carrie. The American Idol alum stuns in a black long sleeve shirt and grey ankle length drawstring sweat pants. Seemingly, this is a shameless plug for her clothing line. The caption reads, "These may be the most comfortable pants I've ever owned."
According to caliastudio.com, Carrie Underwood is modeling the CALIA by Carrie Underwood Women's Sweater Joggers. The product highlights describe the joggers as a relaxed fit with a 26.75″ inseam. Additionally, the joggers are available in sizes XS to XL. Also, the pants material is a viscose, polyester, nylon blend. At the time of this writing, the joggers don't have any reviews. A pair of these pants retail for $69. And, just in time for Christmas, they are available for ship to store to many Dick's Sporting Goods stores.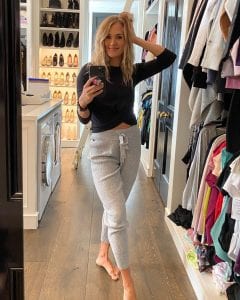 Fans react to Carrie's pants and rediscover her closet hack.
Luckily for Carrie Underwood fans, she regularly posts selfies from inside her closet. Not too long ago, Underwood seemingly broke the internet when fans realize what is oftentimes in the background of her closet photoshoots.
Notably, the jaw-dropping walk-in closet is hosts to many practical amenities. Namely, the closet of wonder has its own washer and dryer. Additional "things that just make sense" about the songstress' closet is a ladder and back-lit shoe shelves. Rightfully so, Underwood is giving fans some closet envy.
In yesterday's post from her closet, several Instagram verified celebrities are weighing in on the selfie. Of note is a comment from Brad Paisley's wife, Kimberly Williams Paisley. Notably, this comment gets attention because of Williams Paisley's role in a recently released Christmas movie Christmas Chronicles 2 on Netflix.
Fans forget she's there to promote her clothing line.
While it seems that Carrie Underwood shares this closet selfie to promote her athleisure line and comfortable pants, the message seems lost among fans once they realize that Underwood has a washer and dryer in her closet.  One fan even comments, "Washer/dryer in a closet is like Mariah Carey level of fancy." Touched by an Angel's Roma Down also comments with hashtag #closet goals.
Do you have a favorite clothing item from Calia by Carrie? What are your thoughts about a washer and drying in the closet? Let us know in the comment section below. Come back to Country Music Alley for more news about your favorite Country artists.