Country music legend, Reba McEntire takes on a hilarious new Christmas social media trend. Celebrities are taking social media by storm to share their latest spin on "Elf on a Shelf" this Holiday season.
Reba McEntire presents "Biebs on Reebs."
According to Yahoo! Life the latest take on the Christmas tradition "Elf on a Shelf" begins with actress and Real Housewives of Beverly Hills star, Garcelle Beauvais. Beauvais shares a photograph of herself sitting on Pharrell's shoulder. Undoubtedly, the meme is witty. Beauvais captions the trend-setting post with "You've heard of Elf on a Shelf, now get ready for this…" People that aren't familiar with the duo may not get the meme at first glance. However, Garcelle on Pharell is hysterical.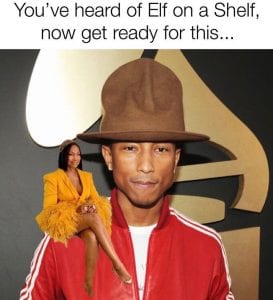 All in good fun, Reba McEntire joins in and shares a beautiful photo of herself with Justin Beiber perched on her shoulder. In the caption, she jokes, "You've heard of #elfontheshelf now get ready for this… @kchenoweth, I see your #LenoOnCheno and raise you a #BiebsonReebs!"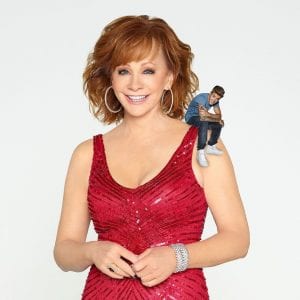 Fans react to Reba's hilarious Instagram post.
It goes without saying, that these celebrity takes on "Elf on a Shelf" are clever and witty. And, this sort of viral social media sensation definitely needed to bring some Holiday cheer to 2020. Shockingly, at the time of this article, Reba's "Beibs on Reebs" photo has over 44K likes. Many of the comments are sprinkled with cry-laughing emojis. However, there are a few fans that seem confused. One fan writes begins her comment with a shrug emoji. The fan goes on to write, "I'm confused… but I love Reba so I'm just gonna go with it."
Other celebrities share their versions.
One of the best things about this new "Elf on a Shelf" game, is the wide variety of celebrities that are participating. For example, American Idol judge, Luke Bryan, pokes fun at the show's host, Ryan Seacrest with "Cryin Ryan on Bryan." Notably, several fans are quick to comment that Luke Bryan "wins" with his post.
It is hard to interpret context in writing, however, Gwen Stefani also joins in on the fun. She shares a current photo of herself with what looks like a mini Harajuku version of herself on her shoulder. She presents #GwenOnGwen or #JenonGwen…which is ultimately just befuddling to think about.
Do you have a favorite celebrity take on "Elf on a Shelf"? Let us know in the comment section below. Come back to Country Music Alley for more news about your favorite Country music stars.