Fans know American Idol and Dancing With the Stars alum, Lauren Alaina to put out some witty social media posts from time to time. With this in mind, a recent post about her paid partnership is no exception. One fan even comments, "Your captions are literally my favorite."
Lauren Alaina is in a paid partnership with Yuengling Beer.
Recently, Lauren Alaina takes to Instagram to share an adorable photo that depicts her partnership with Yuengling Beer. In the photo, the "Road Less Traveled" singer looks very festive. She's standing in front of a spectacularly decorated Christmas tree while donning a pair of reindeer antlers. Additionally, she's wearing a garnet, black and off white festive sweater that says Yuengling across the chest. The country songstress has a massive smile on her face while holding a Yuengling beer.
While the photo in and of itself is pretty darn adorable, the caption takes it over the top. "SWEATER you like it or not, I'm #RaisingTheBar on ReinBEER games this year with my friends @yuenglingbeer." Surely all those puns are enough to put just about anyone into the holiday spirit.  The brewery is quick to come back with a pun of their own. Yuengling writes, "Hoppy holidays indeed."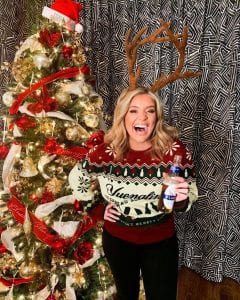 Fans contribute to the puns and holiday cheer.
Nowadays it seems rare to find a post on a celebrity's social media that isn't riddled with hate and trolls. Luckily, it seems that Lauren Alaina fans are top-not and that isn't the case with this post. Most of the comments are compliments to the songstress and a few beer puns.
Notably, Bailey James of the female group Highway Women comments on the post. She writes, "All I want for Christmas is to have that (pointing up emoji) much fun! You look gorgeous." And Bailey James isn't the only one that thinks that. Many fans commented on how attractive Lauren Alaina is in this post.
The next most frequent comment on Lauren Alaina's post is inquiries about how to get the sweater she's wearing. Unfortunately, Yuengling's Holiday Ugly Sweater is currently unavailable on their website. However, the product description recommends completing the look "with our ugly sweater socks and holiday hat!" Anyone looking for a last-minute Christmas gift is in luck because the Holiday Ugly Beanie is available. Sadly, it seems that the Holiday Ugly Sweater Socks are not available, but there are other holiday gift items in Yuengling's online holiday store.
What do you think about Lauren Alaina's partnership with Yuengling? Let us know in the comment section below. Come back to Country Music Alley for more news about your favorite Country stars.