LeAnn Rimes wants to inspire the world with her music. This comes after her time as the Sun came to a successful end on The Masked Singer Season 4. She dropped a new song and music video titled "Throw My Arms Around The World." The country superstar has been trying to be a positive force amid the coronavirus pandemic.
Earlier this year, Rimes offered both music and meditation. She found a unique way to help her fans relax during the challenging year. Her presence has also graced the FOX competition series. Rimes brought a lot of sunlight and joy with her epic performances.
LeAnn Rimes talks new music
The Grammy-award winner is riding high off Season 4 of the popular series. She just released her new song "Throw My Arms Around The World." The pandemic wanted Rimes to find a new way to connect with her fans.
"I don't think I've ever been more connected to the music I'm creating ever in my career than at this point," Rimes told USA Today.
She also talked about her new single. Not only will it make you dance in your seat, but it also tells people to "wake up" and change their lives. On the new track, Rimes sing about wrapping her arms around the world and "love it back to life." She said that the bridge is "probably my favorite bridge I've ever written."
"I can't listen to it without crying and dancing, all at the same time," Rimes said. "It's so powerful. I'm just so blessed and grateful that I was a conduit for this message to come through."
The new song will be featured on her new studio album. It's set to drop early next year. Rimes said she's exploring a new style of music. She's covered everything from pop to country and even chants. But she has "no idea" what to call this new genre of music.
"It's a little bit of everything, and I think that's who I am as an artist," Rimes said. "For me, there's never really been a box, and I've kind of genre-bended over several different genres of music."
She added that she was inspired by the "earthy and ancient" sound of drums.
The behind-the-scenes of the music video
In the interview, LeAnn Rimes said she wanted her fans to "experience the love" that went into creating the song. The "How Do I Live" singer wanted to feature studio footage in the music video. She hopes that her fans will feel that love through the screen.
"It was just a moment of pure passion with everyone that was there," Rimes says in the behind-the-scenes footage of the music video.
The reason why Rimes chose the Sun costume on The Masked Singer is that she wanted to bring light in a dark time. Rimes said it was "overwhelming" to wear the costume because she was unsure as to how to bring it to life. She won over viewers with her renditions of Kesha's "Praying" and Billie Elish's "When The Party's Over."
"Throw My Arms" is just "a key piece for the puzzle of what's to come" on her upcoming album. Rimes hopes that her new music will bring light to people. The untitled project will be the follow-up to her 2020 release, CHANT: The Human & The Holy.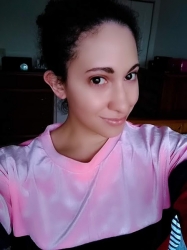 Latest posts by Chanel Adams
(see all)