Latest posts by Mandy Robinson
(see all)
Pop diva, Kelly Clarkson, has been a household name since she took the American Idol crown back in 2002. Eighteen years later the songstress has an amazing song collection that includes popular Christmas bop, Underneath the Tree. Will the popularity of this fan-loved holiday tune boost it towards 'Christmas Classic' status? Some fans think it just might.
Watch Out Mariah Carey — Kelly Clarkson's Comin' for You.
Year after year as Thanksgiving comes to a close, radio channels and streaming services turn their focus toward getting listeners in the holiday spirit. Feel-good playlists of holiday songs old and new start permeating the airwaves gently pulling people through the season. Most of us grow up hearing these songs and most have their favorites. Of course, it goes without question that some songs are more popular and get played more than others because people enjoy hearing them. Mariah Carey's 1994 hit All I Want for Christmas Is You is one such holiday hit.
Over the last 20 years, Carey's high note holiday ballad drilled itself into the hearts of Christmas listeners. Now, to most, it's considered a 'classic.'
Some fans are now comparing All I want for Christmas is You to Clarkson's Underneath the Tree and predicting it will trend in a similar way.  According to Billboard, Kelly Clarkson's song was released in 2013 and has RECHARTED every year around the holidays since. It's not likely to change any year soon.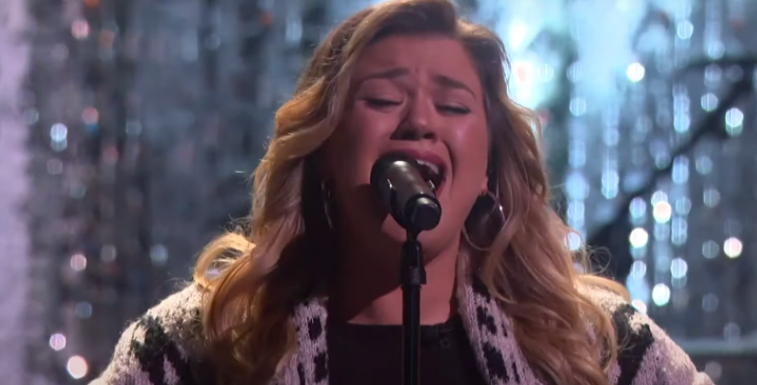 What Makes Underneath the Tree A Modern Classic?
Fans have debated about what makes a good Christmas song for as long as Christmas songs have been a thing. Daily Beast says that a symphonic blend of relatable emotional content and hooky memorable lyrics are the golden combo. Like All I Want for Christmas is You, Kelly's hit Underneath the Tree has both. Both songs lend themselves to putting listeners 'in their feels' — or at least making them remember a time when they yearned for someone around the holidays.
In addition to relatable emotional content and bop-worthy instrumentals, both songs fall into the 'earworm' category. These beloved diva-belted Christmas tunes both have strong lyrical hooks that are hard to forget – even if you want to. Newcomers to the songs will be able to sing along by the third chorus and you will find yourself humming the songs to yourself randomly throughout the Christmas season.
So, while slightly different musically, both songs have quite a bit in common. In fact, with Carey's hit having secured it's 'classic' status in stone, it stands to reason, Kelly Clarkson's bop can't be far behind.
Kelly Clarkson Fan's Rejoice Over Recent 'Kellyoke' Performance
Every day on her talk show, Kelly opens the hour by doing a short performance of a song she enjoys. Normally, the spunky singer does not sing her own songs. In fact, she has opened up during conversations with guests about how it would feel like a cheesy plug to sing her own songs on the show. Recently, however, the pop diva made an exception when she opened her show by performing Underneath the Tree. Her fans were absolutely delighted.
Kelly Clarkson Fakes a Smile for Fans
Unfortunately, despite looking beautiful and sounding amazing – some fans noticed that Kelly Clarkson's performance was a bit off. Clarkson is a natural-born performer and one who is notorious for wearing her emotions all over her face. Watching the recording of the aired performance – many noticed that she looked to be struggling. Her smile looked almost forced. Her body language and facial expressions told fans she was putting on a show — on more than one level.
It's likely that despite being a fan favorite – the spunky Christmas diddy really struck an emotional chord this year. Kelly Clarkson wrote and released Underneath the Tree in November of 2013 – just days after marrying her now estranged husband, Brandon Blackstock. As Country Music Alley has previously reported, the pair are muddling through a nasty divorce. The power couple maintained a picture-perfect image for almost a decade and share two children together. Fans sympathize with the singer, despite her feigned Christmas cheer.  Many quickly realized that the song was likely written about her then-new husband, and performing it during the midst of the divorce seemed to stir up unpleasant emotions.
Do you think Underneath the Tree is a modern Christmas classic? Tell us in the comments! Also, for the latest on Kelly Clarkson and all of your favorite country music stars, be sure to bookmark our homepage!