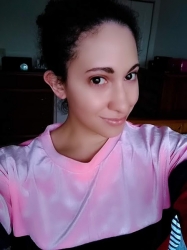 Latest posts by Chanel Adams
(see all)
Shania Twain admits she's finally impressed with Brad Pitt. The country superstar referenced her hit song "That Don't Impress Me Much" in honor of the actor's 57th birthday. The song is from her third studio album, Come On Over. In the iconic music video, Shania rattles off a list of things she doesn't like in a man.
"OK, so you're Brad Pitt? That don't impress me much," she coos. Fans remember the song and accompanying music video. Shania wore head-to-toe animal print, which was never seen before. Country singers were rarely seen as provocative or sexy. They didn't even show their belly buttons like Shania did.
See what the Canadian singer said to Bratt Pitt on his birthday.
Shania Twain sends a cheeky birthday message
The "Life's About to Get Good" singer shared a special message for Brad Pitt, whose birthday was on Friday, December 18.
"Happy Birthday Brad Pitt, I'll make an exception for today," the country singer wrote on Twitter.
Shania's tweet received over 63,000 likes and over 4,000 retweets. Fans were certainly impressed by her joke. One fan wrote: "this does impress me much." A second user added: "time to re-write the lyrics."
Singer explains those lyrics
Shania Twain previously opened up about why she name-dropped the famous actor in her song. In a 2017 interview with Billboard, Shania was aware of Brad's nude photo scandal with his then-fiance Gwyneth Paltrow in Playgirl. Brad sued the magazine for invasion of privacy and infliction of emotional distress, per USA Today. He claimed that a photographer trespassed the hotel and took photos of the couple without their consent.
"I remember I had a girlfriend visiting me and it was near Christmas and we were baking cookies," Shania said at the time. "I was writing this album and there was a scandal of [Brad] and Gwyneth where there were naked photos of him."
Shania exclaimed that there was a lot of fuss about it. But she didn't understand it. She said: "I'm like, well that don't impress me much, I mean what is all the fuss?" That line ended up in that very song. Shania explained it was to downplay the controversy of Brad's nude photo scandal.
Happy Birthday to Brad Pitt, I'll make an exception for today 😘

— Shania Twain 💎 (@ShaniaTwain) December 18, 2020
"We see naked people every day," she continued. "That's really what I thought. I wasn't picking on Brad Pitt. But that was just the association in that moment and things we make fusses about and whatever."
But she admitted that it could be about "any gorgeous guy."
Fan spots reference in Brad Pitt film
Earlier this year, Shania Twain also referenced the famous lyric when a Twitter user talked about Brad's role in his movie Ad Astra. The person claimed that it features different aspects from "That Don't Impress Me Much," including being a rocket scientist and owning a car, both of which aren't impressive features in a man.
— Shania Twain 💎 (@ShaniaTwain) January 13, 2020
"Did no one realize that BRAD PITT just played a ROCKET SCIENTIST, who had a CAR?! THOSE ARE THE THREE THINGS THAT DON'T IMPRESS SHANIA TWAIN MUCH!!!"
Shania simply responded with a series of laughing and crying emojis. Step back in time and check out Shania's music video below.