Luke Bryan and Caroline are celebrating one of the biggest milestones in their niece Jordan Cheshire's life. Jordan got engaged to Clint Eudy, her boyfriend of five years yesterday. And she told the world all about it today via her Instagram.
"Woke up this morning a fiancé!!!" Jordan continued her post saying, "I cannot wait to MARRY you. I love you so much."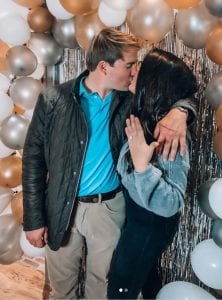 Luke Bryan Prior Heartbreaks
Jordan and her younger siblings Kris and Til are the children of Luke Bryan's older sister Kelly and her husband Ben Cheshire. Tragically the kids lost both of their parents within seven years of each other. Luke's sister died in 2007 from a still unidentified disease. Then Ben passed away in 2014 from an apparent heart attack; leaving their children parentless. Luke wrote "Drink a Beer" about the loss of Ben and his shock and devastation at losing another brother. Luke is the youngest of three siblings and he not only lost his sister but his brother also died in a car crash when Luke was only nineteen.
But despite the grief, Luke and Caroline immediately stepped in and adopted all three of their nieces and nephew. Caroline said in an interview, "We never thought twice about it. We just did it." The three of them were family and the Bryans wanted them with family.  Jordan was already in college and Kris followed close behind but Til became a third son to Luke and Caroline. It was a dynamic shift in roles for everyone, but as a family does, they made it through. Luke talked about the pressure of becoming a parent to a teenager essentially overnight. His own sons were only seven and four at the time.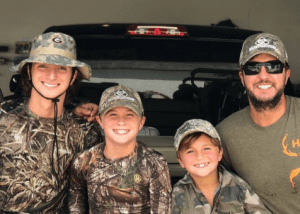 It's a family deal
Despite the tragedies that have struck their family Luke is determined to be positive. "You keep going and you try to be as positive as you can," Bryan also said, "You try to appreciate every day." Luke talks about how the loss in his family has made him "stop to smell the roses". Because there is no guarantee of tomorrow. So, we need to be grateful for the time we have; with the people we love.
Luke and Caroline were either present for the proposal or immediately on-hand afterward for photos. The Instagram posts show Jordan in a state of shock and bliss while Luck and Caroline look a little lost for words. This Christmas will give the Bryans something extra to celebrate as they come together. This year we wish them all the love and laughs they can stand. And I am personally looking forward to Caroline posting more of her hilarious pranks. She has patented the term Pranksmas, and she has a house full of victims. Merry Christmas Bryans, and lots of love!
Latest posts by Mandy Robinson
(see all)