Taylor Swift is giving major "witchy" vibes with her new album. Earlier this month, the singer dropped her new album, Evermore. The release comes after her surprise release of Folklore in July. With her new single "Willow," the singer makes several references to witchcraft.
It's likely that Taylor watched too many witches on TikTok. She previously referenced witchcraft with her Reputation track, "I Did Something Bad." She sang, "They're burning all the witches even if you aren't one." It was a response to the backlash she received over her ongoing feud with Kanye West and Kim Kardashian.
But it seems like Taylor is embracing her dark side. And it has fans wondering if she's dabbling in witchcraft.
Taylor Swift fans wondering if the singer is interested in witchcraft
Per Religion News Service, Taylor Swift is making several references to witchcraft with just one song along. Swifties wonder if it's part of her "cottagecore" aesthetic, or if it's personal commentary about her own spirituality.
"There's a lot of plot twists in 2020 but I have to say I didn't count on Taylor Swift trying to turn me into a witch," one fan wrote on Twitter.
Evermore has caused fans to wonder if Swift is a secret witch. Most of the speculation comes from the lead single called "Willow." In the video, Swift walks through a dark forest. In one scene, she joined a group of cloaked women dancing around glowing orbs. Swift continued to fuel the witchy rumors.
The singer-songwriter released several "witch" remixes of the song. She also admitted that the song "sounds like casting a spell to make someone fall in love with you." When she dropped the "lonely witch" remix, she shared a photo of herself on social media with the caption: "Witches be like 'Sometimes I just want to listen to music while pining away/sulking/staring out a window.' It's me. I'm witches."
Witches be like "Sometimes I just want to listen to music while pining away/sulking/staring out a window." It's me. I'm witches. Never fear, the "willow lonely witch remix" is here. 🔮 https://t.co/bJwRyvIOeM pic.twitter.com/NtpYsohJds

— Taylor Swift (@taylorswift13) December 15, 2020
Since then, fans wondered if Swift came out as a witch. Before the winter solstice, Swift even released remixes featuring the video of a burning Yule log. Witches and Pagans burn a Yule log during the winter solstice to celebrate the longest night of the year.
Did the "Willow" singer out herself?
Feminist "geek" website The Mary Sue asked readers, "Is Taylor Swift A Witch Now?" Columnist Jessica Mason compared Swift to other female singer-songwriters who are also "honorary witches," including Joni Mitchelle, Sarah McLachlan, and the "ultimate musical witch" Stevie Nicks.
"Taylor, in embracing her witchiness, is stepping into a long and storied tradition," Mason writes in the essay.
Swift has referenced witches in Folklore. In the song "Mad Woman," she sings, "Women like hunting witches too / Doing your dirtiest work for you." But it's unclear whether Swift is just loving the witchy "cottagecore" aesthetic that's all over TikTok and Tumblr. Fans know she loves hanging out on Tumblr.
In her Disney+ concert film, Folklore: The Long Pond Studio Sessions, Swift described what it was like to write the album in quarantine. She explained that most of the songs are less autobiographical in style than previous albums, adding "that country music kind of narrative device."
What is Swift's faith?
In an interview with Religion News Service, Ed Hubbard of Witch School thinks that Taylor Swift declared herself as a witch. He even welcomed her on Twitter.
"All magic works very simply. It's a matter of what's in your will, your imagination, what you want to have in the world inside your head come out of your head and exist in the world," he said.
However, Swift identifies as a Christian. In her Netflix documentary, Miss Americana, she explained why she became more vocal about politics during the 2018 midterm elections. Swift expressed concern about Tennessee Republican Sen. Marsha Blackburn's voting record.
This is fun. We welcome @taylorswift13 to our tribe. https://t.co/6TR0lkNaOB

— Witch School (@WitchSchool) December 16, 2020
"I can't see another commercial [with] her disguising these policies behind the words 'Tennessee Christian values,'" Swift explained. "I live in Tennessee. I am a Christian. That is not what we stand for."
However, interest in witches has increased due to social media. Hubbard credits female empowerment and politics as the sole reasons. He believes that Swift has made that transition with her artwork.
She's not the only one. Lana Del Rey dabbled with witchcraft during the 2016 election. The "Summertime Sadness" song was born and raised Catholic. But now she regularly attends worship services at Hillsong Church.
What are your thoughts? Do you think Taylor is into witchcraft? Sound off below.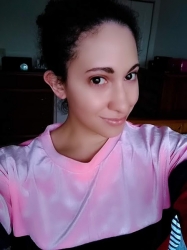 Latest posts by Chanel Adams
(see all)